Thalía: Latina Love Tour
Latina Love Tour is Thalía's concert to promote her Latina album. Five confirmed dates in American cities.
Fresh off from her debut at # 1 on the Billboard US LATIN Album chart and iTunes Charts from Mexico to Argentina, Chile, Ecuador, Costa Rica, and Peru, among others, and claiming top spots in countries such as Japan, Greece, Turkey, the multi-platinum selling singer-songwriter, author, entrepreneur and actress, Thalía is bringing her Latina Love Tour to select U.S. cities in support of her 15th and latest album, "LATINA" with live shows!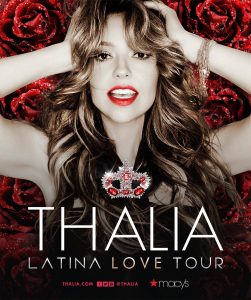 September 23, 2016 - 8PM, Friday
State Theatre, New Brunswick, New Jersey
1,847 capacity
September 28, 2016 - 8PM, Wednesday
Beacon Theatre, New York City
2,894 capacity
September 30, 2016 - 8PM, Friday
Knight Concert Hall, Miami, Florida
2,200 capacity
October 3, 2016 - 8PM, Monday
Revention Music Center, Houston, Texas
2,815 (concert)/ 2,400 (theater) capacity
October 4, 2016 - 8PM, Tuesday
Majestic Theatre Dallas, Dallas, Texas
1,704 capacity
October 8, 2016 - 8PM, Saturday
Dolby Theatre, Hollywood, California
3,401 capacity
October 15, 2016 - 9PM, Saturday
Auditorio Banamex, Monterrey, Mexico
7,000-8,200 capacity
October 17, 2016 - 8:30PM, Monday
Auditorio Nacional, Mexico City, Mexico
10,000 capacity
October 18, 2016 - 8:30PM, Tuesday
Auditorio Nacional, Mexico City, Mexico
10,000 capacity