In HOLA!: Thalía, seven months pregnant, shows us her home in Palm Beach: 'The arrival of this baby means that I recovered my health'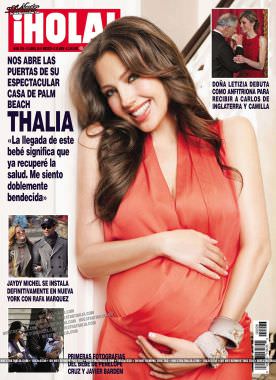 view more images from this album
This week HOLA! magazine offers an extensive report of the singer Thalía who, seven months pregnant, invites us to their impressive and brand new mansion in Palm Beach. The famous Mexican singer and actress who's pregnant and speaks in a candid interview of her struggle to be a mother again. "The arrival of this baby means that I regained my health. I am double blessed" says the singer, referring to the disease suffered by the bite of an insect.
"My husband is fascinated. If we were, we would have five children. The best father that I had imagined," says to her husband, music producer Tommy Mottola. The couple have decided to wait until the birth to know the sex of the baby. "At this time I did not want to know if it's a boy or a girl, I convinced my husband to wait and then enjoy the big surprise."
This is the second child for the couple who has a daughter Sabrina Sakaë, three and a half years, she is delighted with the arrival of her sibling. "When I explained to Sabrina that she would soon have a sibling, she spontaneously said Yuyu. The funny thing is that when I was little, my father called me Yuya."