Thalía presents her son Matthew Alejandro on ¡HOLA! México magazine September 28, 2011 issue.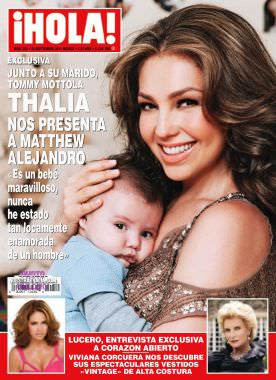 view more images from this album
He is a wonderful baby, I've never been so madly in love with a man
Mexican singer/actress Thalía presents her baby boy to the world on the latest Hola! magazine cover. The 40-year-old superstar gave birth to Matthew Alejandro Mottola on June 25. "I have never been so crazy in love with a man," Thalía confessed.
This week in Hola magazine's pages, singer Thalía introduces her son Matthew Alejandro, who's almost 3 months old, accompanied by her husband Tommy Mottola. "He's a wonderful baby, funny, cheerful and very bright. I've never been so madly in love with a man." The couple's second baby was born a month after the unexpected death of the artist's mother, therefore she assures: "I know that my son was born a gladiator, because he took his first battle against pain, against anxiety and loss during my last month of pregnancy, with my mother's death."
Sabrina, the singer's first-born, is almost 4 years old now and she's delighted to have a little brother. "Sabrina is a very good sister; she kisses him, she hugs him, tells him stories, and she's not jealous, not at all." Having such parents, it's hardly surprising that being so young, he already has such a well-developed ear. "Matt loves listening to mambo, he falls asleep to that music, so I put some Pérez Prado and that's all! I'm happy that in this matter he's just like his grandmother, who loved listening to mambo every day."
Even though she's not rejecting the idea, in fact she would love to have another baby soon, Thalía confesses that she'd like to finish some professional projects that she's been working on first. Among them, her new album, which will be released next year, and a book in which she's telling her experiences.
Thanks Ana-Maria for the English translation!