The Mexican singer explains that her latest album Amore Mio has cost her a lot of sweat and effort to finish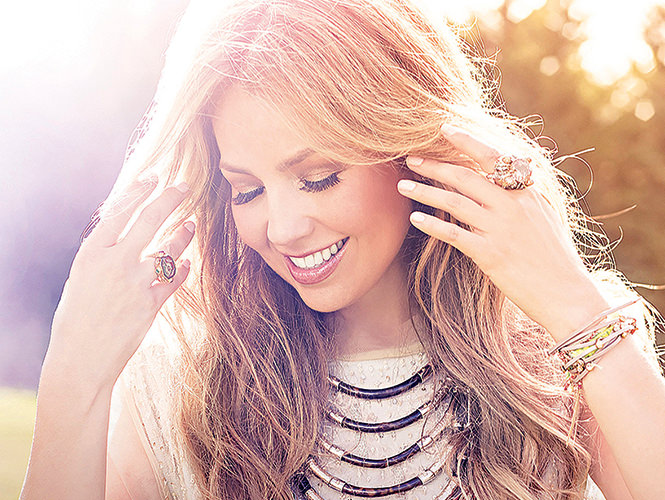 MEXICO CITY, 16 October.- Nothing new in the process of confronting it as if she still need the approval of the people. The truth is that at this point in her career, Thalía could afford the luxury of staying in comfort zone that seems she want to flee at the slightest provocation.
Amore Mío her new studio album, is, said the singer, the best sign that one of her main concerns has to do with the need to reinvent herself. So she started working on parts of the album for a year and a half, under the guidance of Armando Ávila, with the intention of shaping a disc that redefine in her own eyes and those of her fans.
"It has taken me a lot of sweat and effort to finish (the disc) but definitely the most bold and open in every way for me," said the singer through an interview via email.
Mrs. Mottola explained that she sought this new sign, for which she wrote most of the songs, an expression of an honest and funny side of her music. The design of the sound, she said, is created alongside Ávila.
The songs on the album, the thirteenth in her solo career since debuting with Thalía (1990), it took several filters, specific requirements of the singer, before being accepted into the tracklist.
Por lo que reste de vida, by Ricky Montaner, is the first single to be promoted this week and is an example of the level of quality the Mexican sought in the songs.
The interpreter of the songs Amor a la Mexicana, Regresa a mí and Love, among others, said the important thing is the message of each song and not necessarily the name of its composer. Montaner is the case.
Amore Mío was described by Thalía as a pop album that, being recorded live, has a more authentic sound.
"It has romantic and passionate songs, but like others it has songs that will make you move and are super fun," she said.
Moreover, like in Habítame Siempre, in which she collaborated with artists such as Robbie Williams, Michael Bublé, Gilberto Santa Rosa, Prince Royce, Erik Rubin and Leonel García, among others, in this new release there will be voices that is added in the project.
"I had the opportunity to collaborate with Fat Joe, who had worked with me years ago with I Want You (2003) and Becky G. These two songs (Tranquila and Como Tú No Hay Dos respectively) were made to make you all dance," said the artist who in 2015 is celebrating her 25 years of the release of first her album.
Since then, she said, she has achieved much more than she could have imagined when she decided to embark on a solo career after having been part of Timbiriche.
"I think since I started my career I have achieved many goals and I have many dreams that came true, more than I can count, but I always add more goals and dreams to the list. That helps me grow as an artist, as a human being, wife and mother," the artist, entrepreneur and writer said who for several years has decided to change her name into a brand that seems to have no border.
Like she has a radio program, writes children's books, as well as had launched a line of chocolates and designed jewelry and accessories that was sold through her website. None of that seems to suffice.
"There are always dreams that have yet to fulfill. I think that's the part of the magic of enjoying this life, keep dreaming and yearning."
In the future, Ariadna Thalía Sodi Miranda, the full name of the singer, 43, did not rule out anything, not even the acting that she has always considered one of her first professional loves. However, so far she has not gotten an offer to convince her to return to the television.
From New York, where she lives with Tommy Mottola, her husband and father of her children Sabrina Sakaë and Matthew Alejandro, Thalía has also become the voice of migrants. It is, the singer said, an obligation that no one has been entrusted with but she feels it is hers.
"It is my duty to support our Latino brothers living in the United States. I think everyone has a right to pursue their dreams and securing a future for their family", said by one of the greatest divas of Mexican entertainment, of who which, nonetheless, has not lost sight of the importance of her fans.
"My fans are everything to me and social networks are really the only way I can really connect with them on a personal level; it has worked really well. I love the fact that I get an immediate response from my fans and always keep them linked with everything I'm doing," she said.
Source: Excelsior