Thalía returns with her new album Amore Mío, an album featuring original songs including many songs co-written by the beautiful Mexican. This is the 12th studio album by the singer and includes her new hit Por Lo Que Reste de Vida.
We spoke to the singer about her new album and what follows for her in 2015.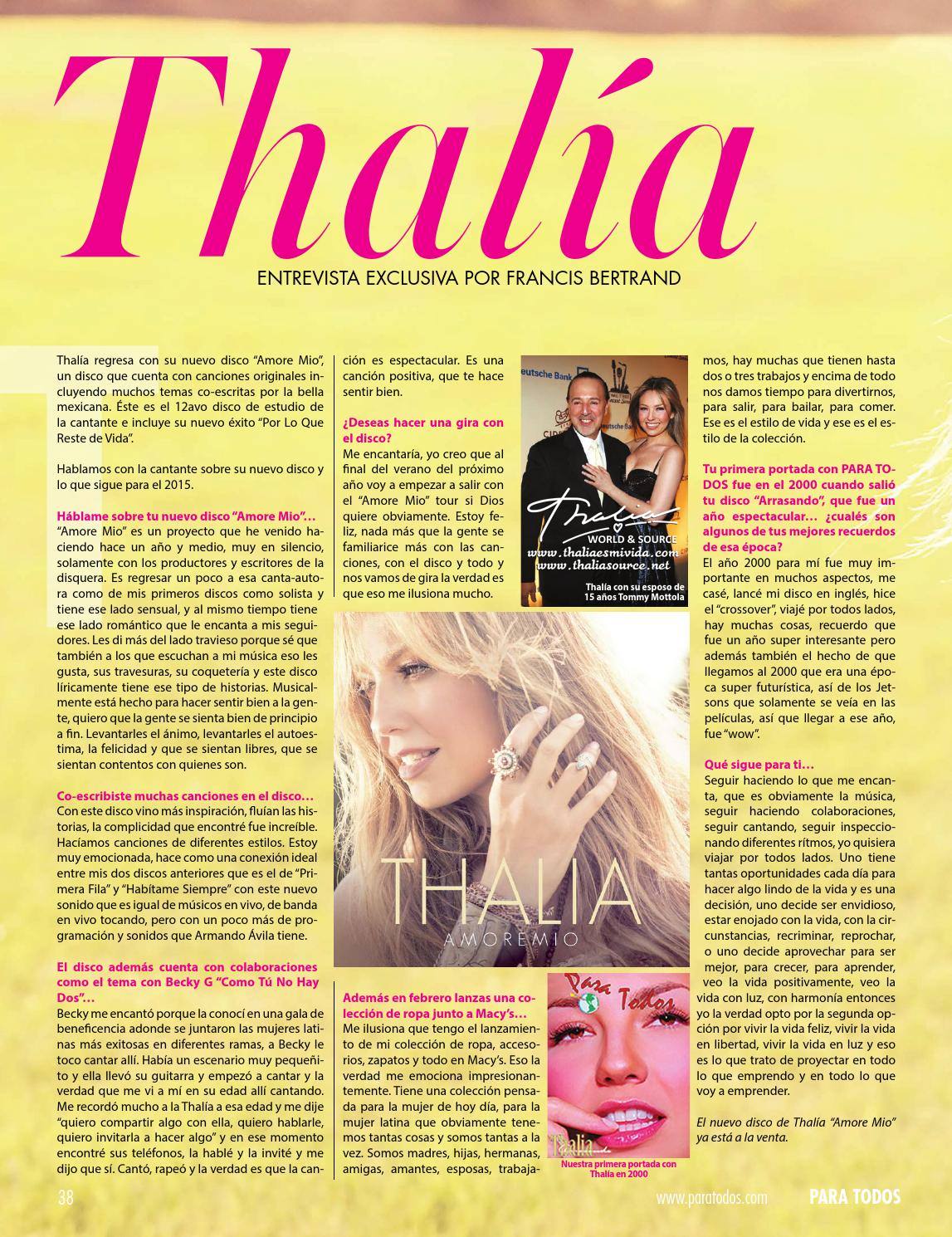 Tell me about your new album Amore Mío...
Amore Mío is a project I've been doing for a year and a half, very quietly, only with producers and writers of the record label. It iss going back a little to as a songwriter like my first albums as a soloist and has that sensual side, while it has that romantic side that my followers loves. I gave more of the naughty side because those who listen to my music also likes it, their mischievousness, their flirtatiousness and lyrically this album has such stories. Musically this is done to make people feel good, I want people to feel good from start to finish. Lifting their mood, boost their self-esteem, happiness and to feel free, to feel happy with who they are.
You co-wrote many songs on the album...
With this album came more inspiration, stories flowed, the complicity I found was incredible. We were doing songs of different styles. I am very excited, makes a perfect connection between my two previous albums that is Primera Fila and Habítame Siempre with this new sound that is equal as live music, live band playing, but with little more programming and sounds that Armando Avila has.
The album also features collaborations with a song Como Tu No Hay Dos with Becky G...
I love Becky because I met her at a benefit gala where the most successful Latinas gathered in different branches, Becky performed there. There she was at the small stage and she plays her guitar and started singing and I really saw my age in there singing. It reminded me a lot of the Thalia at that age and I said "I want to share something with her, I want to talk, I want to ask her to do something" and at that moment I look for her phone, to talk and invite her and she said yes. Singing, rapping and the truth is that the song is spectacular. It is a positive song that makes you feel good.
Also in February you will launch a clothing collection with Macy's...
I'm excited to launch my collection of clothes, accessories, shoes and everything in Macy's. The truth is that I'm impressively excited. It has a collection designed for today's woman, for Latinas who obviously have so much and who is many things at a time. We are mothers, daughters, sisters, friends, lovers, wives, we work, there are many who have two or three jobs and above all we take time to have fun, to go out, to dance, to eat. That's the lifestyle and that is the style of the collection.
Your first cover with PARA TODOS was in 2000 when you did your Arrasando album which was a spectacular year... what are some of your best memories of that time?
The year 2000 for me was very important in many respects, I married, release my album in English, I made the "crossover", travel everywhere, there are many things, I remember that was a really interesting year but also the fact that arriving at 2000 which was a super futuristic era, so the Jetsons which we only saw in the movies, so getting to that year, was "wow".
What's next for you...
I will keep doing what I love, which is obviously the music, keep doing collaborations, keep singing, keep inspecting different rhythms, I would like to travel everywhere. You have many opportunities every day to do something nice in life and is one decision, one decides to be jealous, be angry with life, with the circumstances, berate, rebuke, or you decide to take to be better, to grow, to learn, see life positively, see life with light, with harmony with the truth then opted for the second choice to live a happy life, living life in freedom, live life to light and that's what I try to project in everything I undertook and in everything of what I am going to undertake.