Thalía is inspired by the Latin woman for clothing line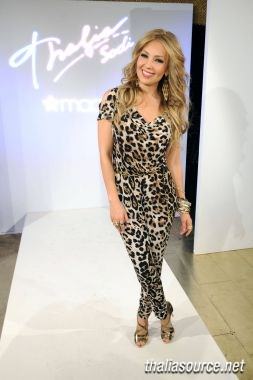 Mexican singer and actress Thalía launched her collection Thalía Sodi for Macy's as part of a multi-year agreement signed with the chain of department stores in December 2013.
NEW YORK (AP) - Tight dresses with zebra prints, modern "jumpsuits", gold necklaces, short skirts and black tops.
Thalía prepares for women of all ages for them to buy within days of her sexy clothing line for the online clothing store chain Macy's department.
And it shows that the Mexican superstar enjoys the designs inspired by her personal style and Latino woman, she said.
"I very much respected the lifestyle that we have because, well, we're hard working women, very enterprising, some have two or three jobs a day, but returns home and do the housework, they are mothers, they are wives, so this is precisely for the lifestyle of a Latina. Very active, fearless but also romantic," said the singer and actress in an event in which she presented the collection, Tuesday night in Manhattan.
"When it comes to fashion, Thalía is a trendsetter for Latinas who love to step out and stand out in a way that is flirty, fun, vivacious and put together. With this new Thalía Sodi brand, sold only at Macy's, we will have an even stronger fashion offering that directly addresses the style, fit, and color preferences of" Hispanic women, Terry J. Lundgren, chairman, president and chief executive officer of Macy's, Inc., said when the agreement was announced.
The collection, presented at the first ever fashion show for Facebook. The clothing line, called Thalia Sodi, will be available in 300 Macy's stores in the United States, and macys.com, starting from February 1.




view more images from this album
Using lots of color but black for the night, Thalía says the collection is very complete, full of dresses, pants, shoes and accessories.
"It's a collection to be used everywhere, for everyone. We invite you to live, to say 'let's have a good time'", said the 43 year old artist.
Thalía presented some of the designs on Tuesday with her husband, music mogul Tommy Mottola, and with Jeff Gennette, president of Macy's Inc. Greeted the audience from the catwalk of Goldbar with a broad smile, dressed in one of the designs of the collection: a tiger print "jumpsuit".
Thalia Sodi products have been designed by the artist and by the organization of Macy's Private Brands.
The singer debuted a decade ago in the fashion world with Thalia Sodi collection line for the retailer K-Mart, where she spent a limited time. The contract with Macy's is for several years.
After the event, Thalía posted photos celebrating with her husband Tommy Mottola at a restaurant.
Born and raised in Mexico City, Thalía began singing at age 9 and became famous with the group Timbiriche. In 1990 she began her solo career and has since sold over 40 million records.
Besides several telenovelas, Thalía is also the author of two books of beauty, a biography and children's book.
In November she released her album, "AMOREMIO", by Sony Music for which she wrote some of the songs.