The singer enjoys in fullness the success she has achieved in all phases of her life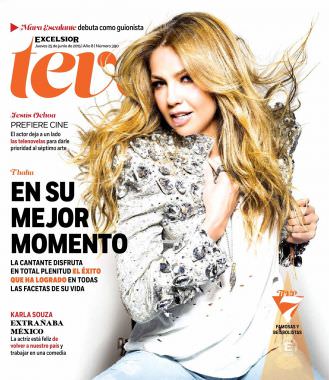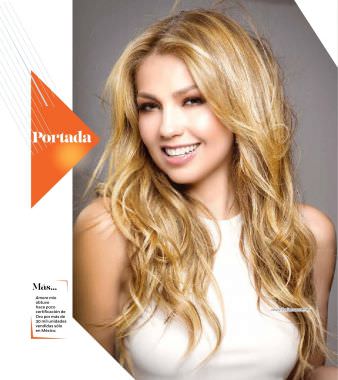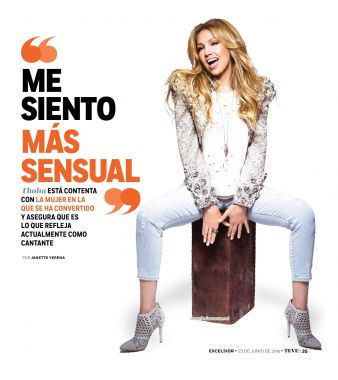 "I feel more sensual"
Thalía is happy with the woman she has become and what she says is it is now reflected as a singer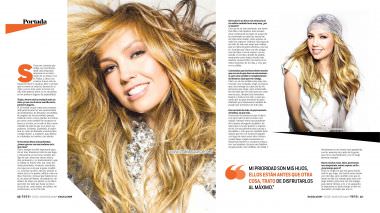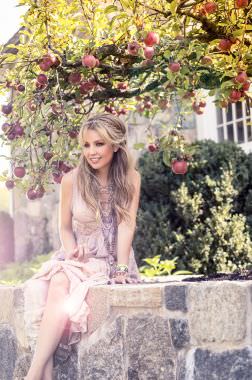 MEXICO CITY, 25 June.- If there is a singer who reflects with complete honesty of what runs through each stage in her life through her music, that's Thalía, and now with her album Amore Mio she has no hesitation in saying how mature, free and sensual she felt in all the phases of her life; and that is noticeable, as her third single Sólo parecía amor, and it is on the top of the charts.
Thalía, Amore Mio has proven a success, and you follow it with the third single on the top...
Yes, the truth is I am very happy; Sólo parecía amor is a song full of feelings, heartbreak, loss, cheating, madness also because it talks about how sometimes we lose sanity for love, but also to regain your strength and value, the entire disc itself is surrounded by all that is love, passion, distance, loss, spirituality, it is like a call to feel good about yourself, to accept, to free and defend your dreams and ideals.
We hear more profound lyrics, what you have to do with such maturity you have?
Yes; It has always been important for me to be very honest in everything I do, and obviously in the lyrics there is always something of one, now I feel much more songwriter, and it is precisely what it is reflected in Amore Mio, they are like personal stories, experiences, anecdotes, I think that's what the public likes, to hear a sincere record, because it feels real, I can label it as an honest and sensual record that talks about being you, of loving without limits, without prejudices, without taboos, to love passionately, it is an album that has that side of me that even I was unaware of, as a woman, without taboos, without restrictions, living the life.
You say it's a more sensual disc and your videos also shows very sexy, so how do you feel?
This is me right now, I feel more free, more mature, more sensual; I'm glad of the woman that I've turned into from all the phases of my life as a mother, as a wife, in all aspects. I enjoy this stage of my life, I have been a working woman, who surrounds herself with talented people, this is me, the woman that I am with my friends, with my children, with my husband, with my family. It's an album where I have been able to show myself as a woman, much more mature, sensual, free, I am in the best time of my life, and I think that it is reflected.
You said that the lyrics have a lot to do with what you live at this time, but this single is quite simply a heartbreak, it's nothing to do with you...
Yes, in that sense I'm very much in love, very quiet, I have a husband who is with me on each of the projects that have, I'm in love with my children who are everything to me, I'm very much at peace, there are always ups and downs in life, and I'm going through a great moment of great happiness, but obviously I've gone through times of all kinds.
You are a magnet of success, permanence, beauty, what else...
Thank you for the way you say it; I think everything has been based on my work, I'm always very aware of what I give to the public, to know what they want or expect from me; I am a person who is very close to my audience and I think it has a lot to do with what I have achieved over the years. Even when I went to a restaurant where there are Mexican waiters or cooks, they send me to the table my frijolitos, my guacamole, my tortillas; really, and obviously I am very grateful for the affection of the people, for me is a blessing and I have this forever.
You do many things, album, promotion, you are an entrepreneur, mother, wife, well... is there a time for you?
I tried, the truth is that I like so much everything that I do, I love a lot being with my children, but I also think it's good that one day a week to be myself.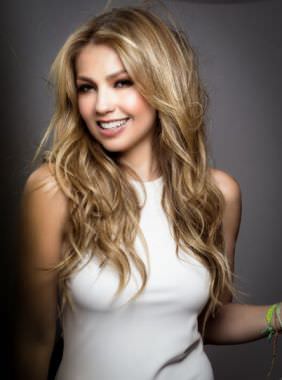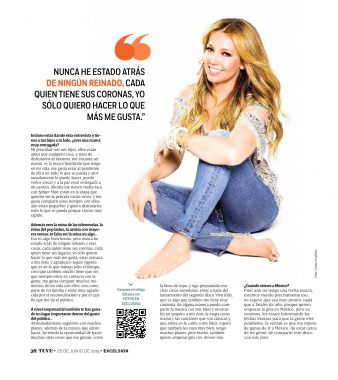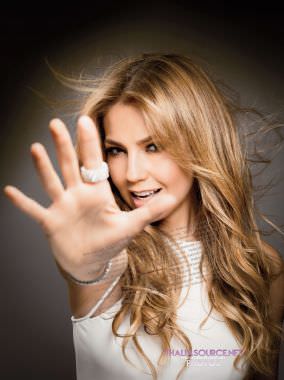 You're even giving this interview and you've got your children by your side, are you a very devoted mom?
My priority is my children, they are first before anything, and I try to enjoy it the most, I love being a mom, it is the greatest blessing that I have in my life; I like to be with them in everything as much as I can and fortunately I can, I can see them grow up and even if I'm committed to my career. Right now I have gone mad with Spider Man, they are at the stage where they want to see the movie several times, and I like to share this time with them, they are still young and I want to enjoy everything I can because they grow very fast.
Additionally you're the queen of soap operas, the queen of Latin Pop, the biggest selling artist, you have to be the queen of something...
That's something very nice, but I've never been behind any reign and those things, everyone has their crowns, everyone has their places; I only want to do what I like, be close to my fans, and I'm thankful for continue existing, which is what I'm working all the time, I think it also has a lot to do of I'm always in contact with people, I like to share many moments of my life with them, they are like part of my family and I'm grateful for the recognition and affection that they gave me.
At an enterprise-level you also won you an important place within the taste of the public...
Fortunately we continue with many plans, along with the music that I love to do, I have had the opportunity to do many other things that I like, like the clothing line, and I'm preparing many new things, I'm about to launch the second album of Viva Kids, it is something that also makes me very happy, somehow I can share music with my children and show a little bit to my fans, this phase as a mom and the songs are classic and now I sing to my children, I hope that it will also go very well; I have many plans, but hey, I also want to start my tour with Amore Mio.
When will you come to Mexico?
Because I even do not have an exact date, we're seeing just that, I hope very soon, hopefully later this year, because I want to start the tour in Mexico, but we'll see, I will be informing the exact dates for people who will wait, the truth is that I'm dying to go to Mexico, to be close with my people, to share this album with my fans.