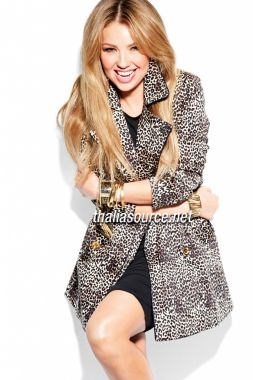 Exclusive Interview!
Thalía promises a year full of surprises for her fans in 2016: a new studio album and a new world tour to promote it. The Mexican actress and singer, 43, gave an exclusive interview with E! Online Brazil, in which she spoke about her new projects in music, fashion and even promised to return to Brazil soon.
"I'm always very happy to go to Brazil. I love the people, the food, the music, everything. I had a novel that was shown there many years ago, I think it was Maria do Bairro (Maria la del Barrio), I don't know specifically, but the Brazilian fans love it so much", she said. "Every day in my social networks I get hundreds of thousands of messages in Portuguese. I love all the people from Brazil, simply I love. I really want to come back. Probably, I will return next year with my next album", she added.
And the news about the next album is so hot that neither the singer knows the details. "I have not picked a title for the new album. We are starting now, we're still writing. It is one of the most exciting parts of the album: creation", she said in which she promises good surprises in the studio album. "We'll probably have collaboration. I'll call some friends and music geniuses, love it. So, they will likely have cameo. I do not know yet who, what style. But I promise you we'll have a conversation about it when I know more details", he said. The E! Online Brazil will wait for the next chat to talk about the album!
Tune in social networks, Thalía seeks to give attention to their assiduous fans and more: to know their stories and know where they are. "I try to know everything what happens with my fans. Unfortunately, I can not know everything about everyone, because there are millions, but I know about most of them. They are from Brazil, Canada, Colombia, Mexico, the United States. I know where they are, what they think about me", she said. "We have a relationship and I find it incredible. Social networks are wonderful for us to be together and love each day. We are very inspired", she said.
But they are wrong those who think that the actress and singer has projects only in the music world: she has just launched a collection of her brand, Thalia Sodi, in partnership with Macy's. Her line includes clothing, footwear and accessories. "This collection was created and inspired for Hispanic women. We are very fashionable, happy, works hard, take care of our children, our families, we take care of everything. But we also like to go out, to have fun, to make caipirinhas. This is a collection of lifestyle that understands our needs and is practical", she said. According to the singer, the clothes are colorful; "Sexy but not bold"; They have animal print and are "sexy and comfortable at the same time."
And good news for women. According Thalía, anyone can use her collection. "Any woman can wear these clothes. Use all the pieces of my collection. I'm a bit thin, but you know, any body type can wear the same outfit I'm wearing and it will be amazing", she said. "Women should choose according to her style, so everyone can use it" she added.
Still talking about the fashion world, the singer gave a hint to women to feel more comfortable and get to use on the clothes they will have to use. "Trust is something that comes from within. It's something you have to feel about yourself. You have to feel beautiful from the inside out. Knowing who you are and love yourself first. And then everything else becomes unnecessary. But what matters is you feel happy and love. Then you can use anything you want", she mused.
Finally, Thalía also had more news to the Brazilian fans. "I'm always on projects. I'm always doing something. I'm about start my next studio album for next year, I am now writing my book. I'm also already thinking about the new tour, where I want to take my show because I will start a new tour next year. Not to mention that I am creating more items for this collection. I'm doing my own charities. In short, I'm always doing a lot of stuff", she said.