Exclusive interview in TVyNovelas (Mexico) magazine September 7, 2015 issue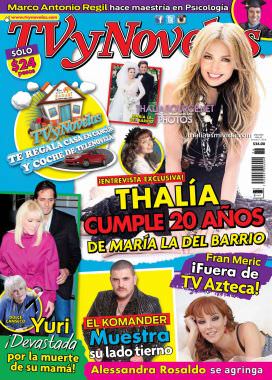 Thalia: One needs allies to grow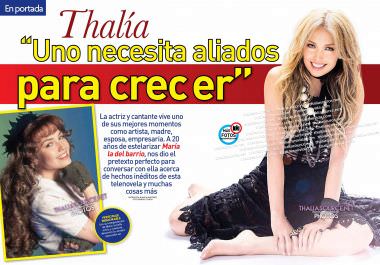 The actress and singer is living on one of her best moments as an artist, mother, wife, businesswoman. At 20 years of starring
María la del Barrio
, she gave us the perfect excuse to talk with her about the unpublished facts of this soap opera and much more
Interview: Blanca Martínez
Photographs: Thalía
Memorable character
With her characterization of Maria, the beautiful actress and singer showed how versatile she could be.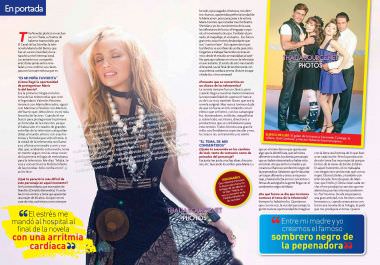 TvyNovelas
spoke exclusively with Thalía, 20 years after the
María la del Barrio
telenovela aired on El Canal de las Estrellas, which was a worldwide success and catapulted her in international level. The singer shared anecdotes never been revealed before us and confessed her keys to being a successful woman that she is.
"SHE'S MY FAVORITE GIRL"
How was the opportunity to star as María la del Barrio?
It was the first trilogy in the history of the soap operas that the legendary Valentín Pimstein created. It started with María Mercedes, continued to Marimar and ended with María la del Barrio, I must say, she's my favorite girl of the three. When he came to ask me to star in the first one I jumped with excitement because he was the creator of the great stars of television catapulting to the world with stories and formula that only he had. In the middle of the soap opera we called his office to my mother and me and he told us that, to finish this novel, I had in mind to continue with the other by creating the first trilogy of melodrama for the television. He said: "Mijita, I'll going to make you the Pedrita Infante of the telenovelas. Just trust me", and so I did.
What do you think the most difficult thing about this character at that time?
Being señora María, who was the mother of Nandito (Osvaldo Benavides). I was in my twenties and I had to pretend a woman of 40 years. So with my baby face, chubby cheeks as I have always been, funny slanted eyes, my teeth crooked, seemed perfect age of young María, but to pass as señora María I had to do a lot of study of Beatriz Sheridan and movements of the face, inflections of voice, body language, eye movement. Also the hairstyle, makeup, costumes. That was a big challenge, plus the overwhelming stress that we "comió el aire". It means that the scripts were written from day to day. We got to live working doing scenes from the studio were they sent it to the satellite so that it will aired live on television at that moment. The stress of this sent me to the hospital near the end of the telenovela with a severe heart arrhythmia. I was incapacitated for two or three weeks!
Did you thought it would become a classic telenovela?
The novela was always a classic, but when it came into our hands we had the responsibility to overcome the fever of Los ricos también lloran which was the original novel. But we never had a doubt that it will not be a hit with the cast that was formed, with cameramen, lighting technicians, stylists, makeup artists and, above all, writers, directors and producers that conspired to this version. We all made a great family, we got along great and that, believe it or not, it is transmitted and can be felt.
THE THEME SONG, MY FAVORITE
Who advised you of the changes in the look, both in clothing and hairstyles of the character?
It was meeting after meeting, many ideas, discussions, etc. looking for the styles for Maria. What I do have clearly is that I wanted to wear something that would identify, that will made her different from all the other characters I had played and had seen on TV. So between my mother and I we created the famous black hat of scavenger. We knew it will going to give a different and unique touch to my character, and so far in my concerts and autograph signings people come with black hat of Maria.
How it became that you sang the theme song of the soap opera?
I always do it. He wanted it with my voice, the voice of the character, the people had a chance to imagine with the lyrics of the story of what they would see each night. But producing this song was very special because I did it in the hands of Emilio Estefan. At the time, he did not work with any other artists rather than with his wife, Gloria Estefan, and also with John Secada. But after Marimar, we see Emilio and Gloria every night, he gave me the song that would open the doors internationally for me: Piel Morena. From there began a great friendship, we became like brothers and when we started with the third novel in the trilogy, I asked him to produce it. I want to tell you that it's my favorite song of my career as a singer. Every time I sing, people bursting the place.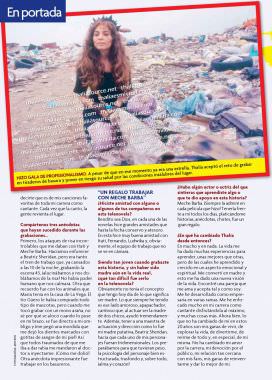 Share us three anecdotes that happened during the filming...
First, the attacks of uncontrollable laughters that Itatí and Meche Barba (Lupe) made. We infuriate Beatriz Sheridan of what we are doing, but it was a train of so much work, and tired at 10pm, recording the 43 scenes, we were hallucinating and we turned into laughing! No human power to calm us. Another thing I remember was with the animals that Maria had in the house of de La Vega. Tio Güero had bought all kinds of pets, but when I got to record with a spider monkey, I do not know why I went wild when I put it on my arm, she went straight to my navel and a bite that hit me and it leave teeth marked with droplets of blood from my skin! I'm all so traumatized that I was angry and they sent me to the doctor for injection. As it hurts! Another impressive anecdote was working in the landfills.
"IT'S A GIFT TO WORK WITH MECHE BARBA"
Did you made friends with one or more of your fellow casts in this telenovela?
Blessed be God, in each of the novelas I made great friendships that so far I keep and treasure. I became very good friends with Itatí, Fernando, Ludwika and obviously the team who were not seen on camera.
Being so young when you filmed this story without even having been a mother in real life, how hard it was to be on the soap?
Obviously I did not have the concept that I have today of what it means to be a mother. What I have always had is the loving side, embracing, loving them, it helped tremendously. Also, having a teacher of acting and directing as was my putative mother, Beatriz Sheridan, to each of my characters were three-dimensional. The preparation to have weight, the psychology of well-structured character, background and, above all, heart and soul!
Is there some actor or actress you felt you learned anything or gave you support in this story?
Meche Barba. I always admire each movie she did! Having her in front of me every day, telling stories, anecdotes, jokes, was a great gift.
What has changed Thalía since then?
A lot and not at all. Life has given me many experiences in order to learn, some better than others, but of which I have learned and grown in a spiritual and emotional aspect. I became a mother, and this has given me a new outlook on life. I found a partner who loves and accepts me as I am. I've developed as an entrepreneur in various branches. I have focused much of my career as a singer enjoying it to the fullest, and much more. But what has not changed me in these 20 years is my will to live, to explore life, to have fun, to laugh at everything, and especially, of myself. It has not changed my love for the career, my devotion to the public, my very close relationship with my fans, my desire to reinvent myself and give my best.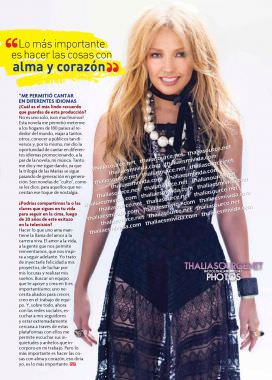 "IT ALLOWED ME TO SING IN DIFFERENT LANGUAGES"
What is the most beautiful memory you keep on this production?
It is not one, they are many! This novela allowed me to be in the homes of 180 countries around the world, traveling to many others, meet such diverse audience and, therefore, gave me the opportunity to sing in different languages by promoting, on a par with the novela, my music. Both gave me and continuous gives me, since the trilogy of the Marías continues to be passed down from generation to generation. Novelas are an "occult", as they say, for those who need that extra touch of nostalgia.
Could you share with us what is or the keys that you follow in life to stay on top after 20 years of this smash hit on television?
Doing all with love and passion allows you to keep the flame of your love to a good career. The love of life, the people that allows us to reinvent ourselves, which inspires us to move forward. I try to inject happiness to my projects, to fight for my craziness and realize my dreams. Find a team to support you and believe in you is very important; one needs allies to grow, I believe in teamwork. And especially now with social networks, I listen to my fans and to be extremely close through these platforms with them allows me to listen to their concerns and desires that I incorporate them into my work. But the most important thing is to do things with heart and soul, that I would say, is the most important.
A CLASSIC OF THE TELENOVELAS
20 years ago,
María la del Barrio
marks a precedent in the history of the genre in Mexico to be sold to nearly 200 countries, whose audience watching the adventures starring Thalía
UNIQUE CHARACTER
Her characterization and tone in singing when talking about conquering the entire world. In Brazil, her drama has been broadcasted more than four times.
SHE WENT THROUGH IT ALL
Maria, included, goes to jail... there Penélope (Ana Patricia Rojo) made her life impossible.
GREAT MASTERS
Aurora Molina and Tito Guizar sheltered her throughout the plot.
SPREADING THE ALARM
Near the end of the filming, Thalía sick of exhaustion, forced the production to disappear her character in several episodes.
MALDITA MARGINAL!
The cries of hatred that Soraya (Itatí Cantoral) threw to Maria, also became classics.
THE CHALLENGE
Playing, at the end of the story, a sophisticated woman twice the age that she was then.
HER FRIENDS
Also acting with young talents at that time like Ludwika Paleta and Osvaldo Benavides.
HER CONSECRATION
With this production by Angelli Nesma, the last part of the Marias trilogy, Thalía was seen by billions of people around the planet.
REAL LOVE
The romance in the story that held Maria (Thalía) and Luis Fernando (Fernando Colunga) transcended in real life during filming.