#QuiénNY The Mexicans that shines in the Big Apple
The Quién magazine's special edition is dedicated to the compatriots of who daily demonstrate their talent and perseverance in one of the most important city in the world: New York.
Many Mexicans enriches life in the Big Apple. These New Yorkers, of strong Mexican roots, enshrined in the MET, place their brand of tequila in the best places, compete on par with architects, publishers, chefs, local financiers, opened hotel and more open. They are achievers.
In this issue you'll find stories like Phoebe and Annette Stephens, who designed jewelries used by Michelle Obama, the chef Enrique Olvera, Daniel Lubetzky, Thalía, Fernando Romero, Carlos Couturier and Moisés Micha, among many others. They were portrayed in the streets and buildings of New York.
In addition, a recommendation guides and interviews with personalities from the likes of Sandra Fuentes Berain, consul general of Mexico in New York.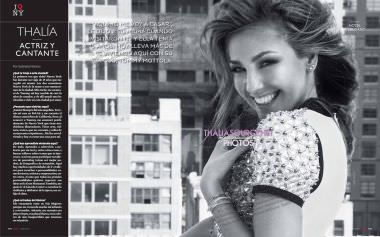 Who brought you to this city?
The first time I visit New York I was 15 during the trip which is a gift from my mother. We both learn New York together and fell in love with the city. Later, I fell in love with Tommy, now my husband of nearly 16 years, and from there emerged an invitation to live in this city for love.
Did you thought you would live here?
Never! I was always more Angelina [Los Angeles]. I had my house in Bel-Air and I love the climate and atmosphere of California. But when I met Tommy, I fell in love in New York that has lots of dimensions. It has art, culture, theater, which I love, and thousands of exquisite restaurants. In New York you can eat at a different restaurant every day of the year without repeating. New York was enveloping me and now is like a home for me.
Your wedding was like a fairy tale the dress was historic because it could not enter the limousine! Tell us something about that funny day...
My wedding was a dream come true for many factors. One is that on this trip I came with my mother when I was fifteen we went to St. Patrick's Cathedral and there I told my mom: "Mom, I'm going to get marry here". My mother turned to me with a face of "aha". And then I said, "I am getting her married mom. I'm going to enter with the largest and most beautiful dress that anyone will ever see". And so years later. When I married, my mother was sitting on the same bench where I told her I was getting married there, and both of us, when we saw each other, we exchanged the glances that said "wow" dreams do crystallize and do come true.
Moreover, the dress does not fit in the limo! I mean, it was an ordeal trying to get that dress in that limo on a winter night in New York, freezing, December 2. And I did not feel any cold! To me what made me nervous was that how the dress will fit into the car.
You are already living in New York for more than 10 years, and you've done everything: fashion collections, radio program, magazine, you've won awards for your philanthropic work... What will you rate as the most significant for you in New York and why?
I already have many years of understanding the Big Apple, giving food and not staying with things I want to do. I think it's a city, as what as Frank Sinatra sang, if you manage to do it in New York, you succeed in the world. Here, I have been fortunate to develop several projects, realize them and make them big. I think one of the most important right now is the collection that I have at Macy's for clothes, shoes and accessories as this is certainly an iconic Big Apple store in Manhattan, and the United States. As a Latina, to have a brand that makes us look good is very important to me.
What has been your biggest lesson to live here? What this city has given you?
In this city you learn everything. to fight for a taxi and, among other things, to find workshops on topics that interest you. In my case, I like to participate in workshops of "parenting" (better parenting), photography and performing. Here there are many opportunities to go to workshops to listen to people like doctors, artists and entrepreneurs, among others, they talk about their experiences or things that have worked for them in their life. These platforms are not found in many cities worldwide. As all great people always want to express their ideas in the Big Apple!
I also very like to go to Lincoln Center to hear the symphony and enjoy the opera. That relaxes my soul.
Your three New York favorites: A place to eat and/or drink; a place to enjoy a good show or art show and your favorite place in New York.
One of my favorite places to eat in New York is obviously Cipriani, which is located on Fifth Avenue opposite the Hotel Plaza. I really like it there because all the waiters know me, they treat me as their child, takes care of me... I love it! Another one I like is Milos because they cook delicious Greek food. I love everything that is hummus and fish served there, exquisite. Also, I like the "brunch" for children in Eloise at the Plaza Hotel. I enjoy to take them there because they bring a small plates of sandwiches and very rich pastries and children love that.
Among the places in New York that I like to visit is the "Frick Collection". I am very pleased to sit there and see the works of art, because it is full of tranquility, of long silence, and sometimes you need that. Also, the "Chinese Courtyard" at the Metropolitan Museum is a very zen garden type area and is super calm and quiet. Also, I love to go to Central Park, the area where you can play with remote controlled small boats that are rented on the spot. Sometimes I'm driving hours and making miniature jars and doing little run with my kids. That part of New York I like a lot!
If you could be in Mexico right now where would you be and what you'd be doing?
If I were in Mexico right now I'd love to be in Isla Mujeres, because it reminds me of my childhood and reminds me of my mother. Also, I love the untouched beach, that white beach, those insurmountable colors of the sea that we have in my country. There Im fascinated to eat ceviche, drink a good Mexican beer and complete it with a little fish to size it up. Honestly I love that region of my country. I'd be happy to be there right now!