Queen of Latin Pop wows large Houston crowd with sexy fashion collection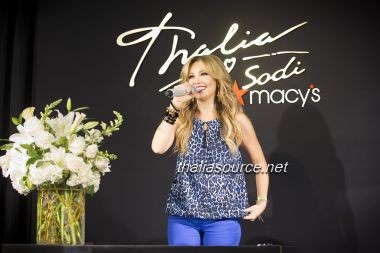 view more images from this album
HQ, UHQ
Several hundred fans jammed the Macy's Memorial City store on Saturday as Mexican pop star and actress Thalía debuted her fall collection. During a meet-and-greet, the 44-year-old singer/actress, affectionately known as the Queen of Latin Pop, mingled with admirers as they chanted her name — like Madonna and Cher, she's a one-name superstar — and sang her most popular songs. Some had arrived as early as 5:30 am to be among the first in line.
The star of the popular Maria trilogy of telenovelas, who is also called "The Empress of Beauty", held babies, hugged fans and even allowed one man to pick her up in his arms.
The Thalía Sodi Collection, which includes nearly 250 items, ranging from clothing and shoes to jewelry and accessories, retails from $26.50 to just under $100. For fall, the collection emphasizes figure-flattering leopard print dresses and skirts, black-and-gold jacquard slacks, peplum tops, fitted jackets and an array of studded stilletos and glittery jewelry.
Thalía previously had a clothing line with Kmart, a sunglasses collection, a Hershey's chocolate and candy brand, a perfume and a radio show.
She's also the voice of Scarlet Overkill in the Spanish-language version of the blockbuster Minions.