People en Español partnered with the U.S. Department of Homeland Security to host an official naturalization ceremony with pop star Thalía and former Yankees pitcher Mariana Rivera in attendance. The ceremony is part of the two-day event of People en Español 2015 Festival on Sunday October 18, 2015 at 11:30AM at Jacob K. Javits Convention Center in New York City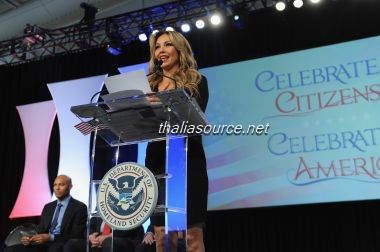 view more images from this album
HQ
USCIS recognizes Thalía as an "Outstanding American by Choice"
.@thalia recibió un reconocimiento especial durante la ceremonia de naturalización en el #FestivalPeople. @DHSgov pic.twitter.com/6ZWKUoRc7e

— People En Español (@peopleenespanol) October 18, 2015
In New York City, 100 immigrants from 35 different countries received a special welcome to America. They were naturalized at the Festival PEOPLE en Español in front of a crowd of hundreds, including some Latino pop culture icons.
The ceremony kicked off with a moving rendition of America's national anthem, sung by 11-year-old powerhouse Jonael Santiago.
After that, the U.S. Citizenship and Immigration Services administered the Oath of Allegiance to 100 soon-to-be-citizens standing with their hands raised, as their loved ones watched on, cameras raised. The group was naturalized in the presence of Outstanding Americans by Choice honorees Thalía and Mariano Rivera. The Mexican-born pop singer and former Yankees pitcher were honored because of their dedication to this country and to serving others. They accepted their awards and gave inspiring speeches to the new batch of U.S. citizens.
"I became naturalized after my daughter Sabrina was born," Thalía told the audience. "It was an organic step for me and it was an opportunity to represent a Latin woman who works and takes care of her family and is an active part of this society."
However, Thalía has no intentions of letting go of her Mexican pride. "I am and I will always be a Mexican girl in my heart in my soul."
The singer and telenovela star and her husband, Tommy Mottola, have blended Latin and American traditions. "Now the traditions and celebrations of this country are also becoming the traditions and celebrations of my own, especially as I began building and raising a family that immediately became bicultural and bilingual. It's funny to think that now we are going to celebrate Halloween but we are also going to celebrate Día de los Muertos in my home."
Thalía wasn't the only superstar singer on site. Gloria Estefan also made an appearance at the festival, and spoke to PEOPLE about her own father's naturalization.
The ceremony ended with the presentation of the naturalization papers to each new citizen in front of emotional onlookers.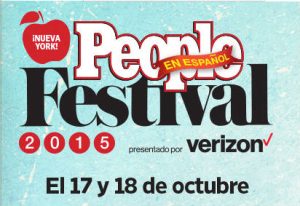 People en Español Festival is a two-day cultural event that will gather Hispanics from across the country. With musical and dance performances, panel discussions, family activities, and meet-and-greets, the fourth annual festival aims to "create a place where Latinos can celebrate their culture and be inspired, informed, and motivated", says People en Español publisher Monique Manso. In keeping with this year's theme — "Your Voice, Your Power, Your Festival" — the event will feature top Latino celebrities and influencers ready to share their stories and inspire audiences. The festival scheduled to take place on October 17 and 18 at Jacob K. Javits Convention Center in New York City.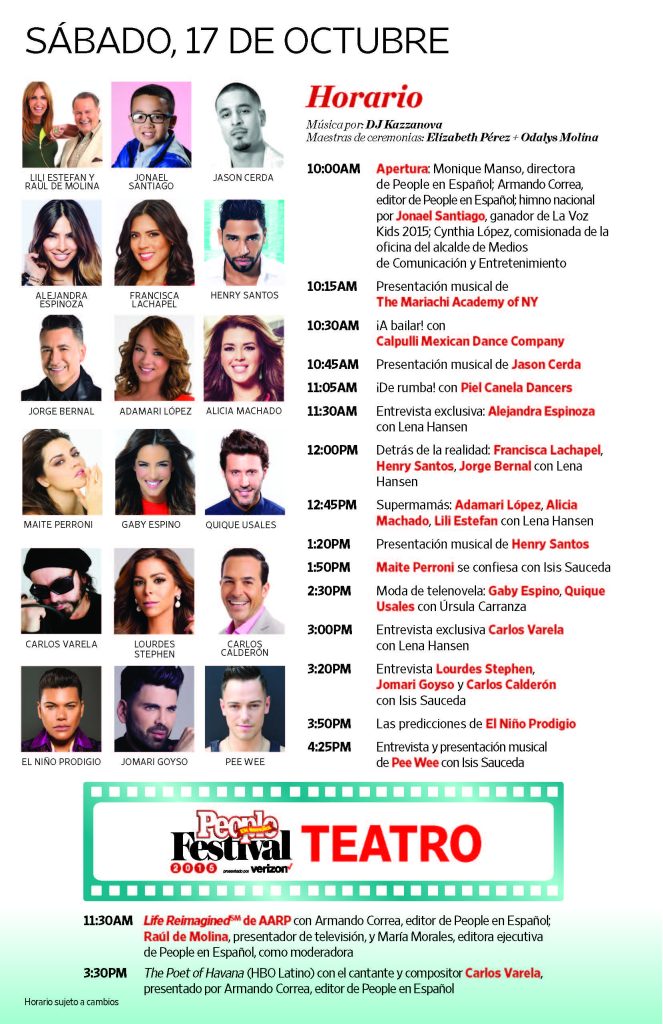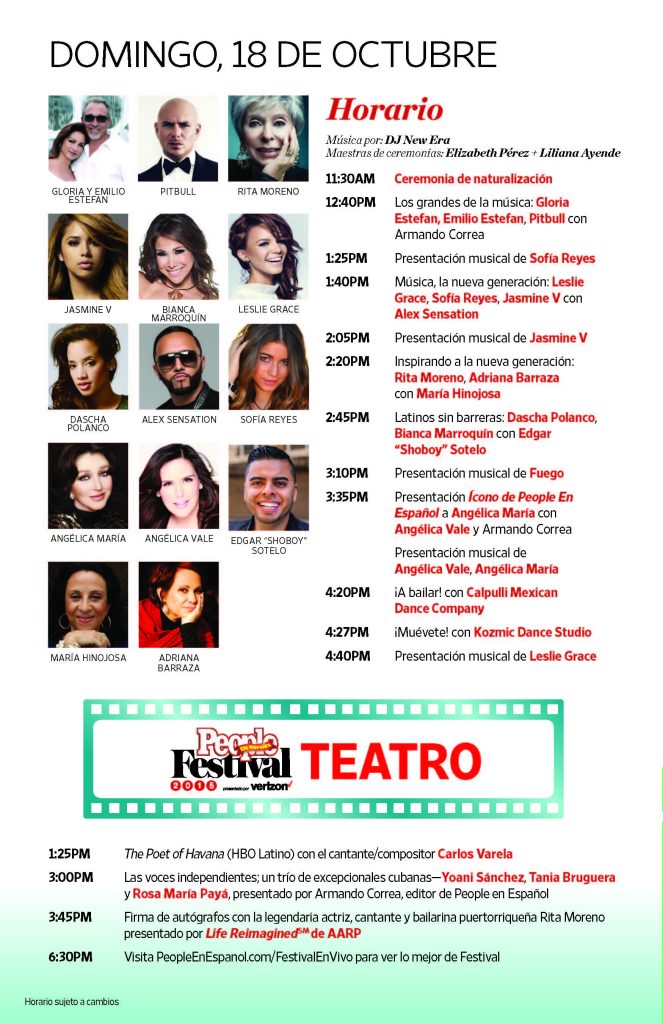 Fourth Annual People en Español Festival to Take Place in New York City October 17-18
Three things to know about People en Español's Festival
Hispanic Celebrities Gather in New York for Major Naturalization Ceremony