Mexican singer Thalía presents her new collection of clothing for the store chain Macy's in New York, and gave us her best advice to be the center of attention this fall.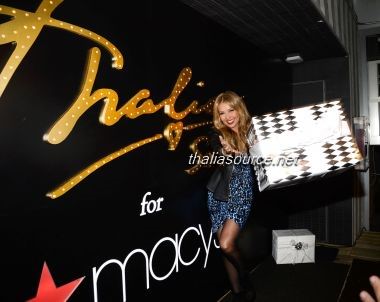 What's your favorite trend this season and advise how to wear it?
It's more on animal print. You can have a very striking piece, very wow, but can smooth it down with something solid. It lets you play, makes you look more risky or more rocker.
Your favorite color for this fall?
The red is very strong, but burnt red almost purple or very bright red. Combine it with much gold or silver or gold and silver together, that many people are afraid to mix but can be fun.
What are the key pieces that we need to invest in?
In high boots or short booties and large bracelets that can be put on a long turtleneck sweater or a short dress with a jacket.
Tell us a piece of your collection that will leave with our mouths open at Christmas.
I have a golden lamé dress, the fabric is like water and is supersexy, classic, like of old Hollywood. That causes that feeling when you go to any party.
For what kind of woman are your designs?
For all types of women, women who work and have no time to think about how to change. It is a transitional clothes, for work, you put accessories and use it later for the evening.
Copy the look of Thalía wore in the presentation of her collection. Here her dress, jacket, bracelet, rings and boots.