Singer, actress, fashion designer, entrepreneur, writer, and mom of two Thalía shares her parenting, lifestyle, fashion, and beauty tips as a POPSUGAR Latina contributor.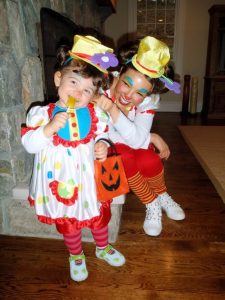 October comes, and the house fills with holiday enthusiasm. It is the start of Fall and the month when the excitement for the end of the year begins! I enjoy celebrating Halloween with my family. It is great to see the kids enjoying themselves while dressed up as their favorite characters, ready to trick-or-treat with their friends. But why not include us parents in the activities and wear costumes to match the children? It is all about having fun! Keep scrolling for five of my favorite themes and ideas to dress up for Halloween as a family this year.
Teen Titans Go!
I am loving this idea! My daughter would like to dress up as Raven, while my son likes Beast Boy. I could be Cyborg, and my husband could be Robin. My children are obsessed with these Cartoon Network characters, and since they are a team, the theme could work amazingly well for my family.
Batman and His Squad
We all know Batman is a classic! It is also a great idea because there is a good array of supporting characters to choose from. If we were to use this theme, my son could be Batman and I would have fun dressing up as the Joker. For my daughter and husband, I would present the extensive list of Batman's superhero friends and villains for them to pick: Superman, Green Arrow, the Penguin, Batgirl, the list goes on. The possibilities are really endless!
The Flintstones
For a retro look that is always a favorite, try The Flintstones. I have to admit that I am looking forward to using this idea soon. I can clearly imagine my husband dressed as Fred. I have tried to convince him for five years, and he still refuses. I am not planning on giving up! Maybe 2015 will be the year he says yes. I could dress up as Wilma, my daughter Sabrina as Pebbles, and my son Matthew would be Bamm-Bamm. It is such an adorable and wholesome theme for a family.
The Avengers
Superhero costumes are always a hit, and the Avengers do not disappoint! The costumes for this group of superheroes are generally easy to find and, in many cases, budget friendly. If we were to dress up as the Avengers, I would love to be Black Widow! Other options for children and adults alike include Thor, Iron Man, Captain America, Hulk, and Scarlet Witch. The whole family will have a blast.
Glow Stick Figures
If you are in a hurry, have a strict budget, have a large family, or are looking for a simple and fun DIY idea, turn the whole family into glow stick figures (like Ariana Grande did here in a performance). My daughter dressed up as one when she was only 6 years old. The best part of her costume: she put it together on her own. Buy a bunch of glow sticks in different colors, and plan on dressing everybody in black from head to toe. Carefully tape the sticks to the clothes in whichever shapes you like, using neon-colored duct tape. Voila! All done! Bonus: it is a safe costume for trick-or-treating because you will all glow in the dark.