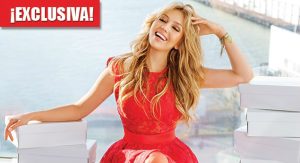 The March 2016 issue of TVyNovelas USA brings in an exclusive interview with the Mexican star Thalía, who in her own words, the singer tells her unstoppable story: After so much success, the artist comes with a new disc, another clothing line and with plans to start a world tour.
But what impressed us more than the revelations of Thalía is her unconditional love for her homeland. "We have a great nation and we are a tremendously loving race," says the actress, ensuring that her heart is in Mexico.
[divider]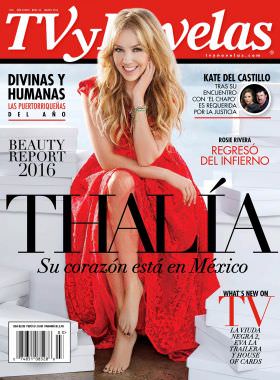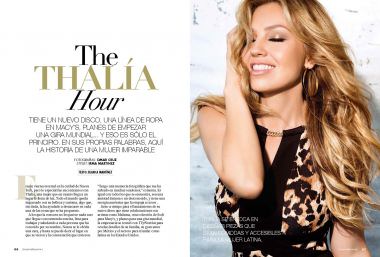 The THALÍA Hour
SHE HAS A NEW ALBUM, A CLOTHING LINE
IN MACY'S, PLANS TO START
A WORLD TOUR AND THAT'S JUST THE
BEGINNING. IN HER OWN WORDS, HERE
IS THE STORY OF AN UNSTOPPABLE WOMAN
Photography: Omar Cruz
Stylist: Irma Martinez
Text: Blanca Martinez
It was a normal Friday in New York City, but what is special was meeting with Thalía, a woman who arrives at the place so full of light. Everyone is shocked by her beauty and charisma, something that certainly has helped her stand out in each of the things that has been proposed.
Those things they do not seem at all unusual when she arrived with tremendous smile, ready to work and greeting everyone who she recognized by name. She never forgets a face, and even can tell the place where they met and the conversation they had.
"I have a photographic memory that has saved me many times," she says. It is the same with all that it is, whether a famous friend or a stranger, and she has a real energy that pushes to grow.
Just in time for the release of her new album which features collaborations with artists like Maluma, another Thalia Sodi collection for Macy's, and plans for a world tour, the entrepreneur met with TVyNovelas to reveal details of her family, her great love for Mexico and the secret to success as a Latina in the United States.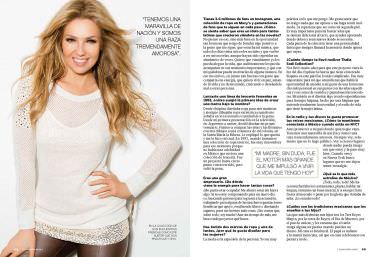 You have 3.6 million fans on Instagram, a clothing collections at Macy's and generations of fans who follow you at every step. How does it feel to know you're an idol for so many Latinos who grew up watching you in the novelas?
I do not think about it, but rather in such a beautiful opportunity I have to bring something positive to the people who follow me, who listen to my music, who all day visit my social networks and returns to watch my novelas, even if they were already repeated countless times. I want to visually brighten their lives, which can accompany them aurally in their important moments, and my words can motivate them somehow. That's what I focus, to gather my strength with people who share that energy, you want to live in peace, loving life, not pulling apart, criticizing or others wishing them ill.
You released a line of female lingerie in 1993, how did the first idea of creating a brand under your name?
Since I'm very young I'm designing clothes for my dolls and always drew eccentric clothes when I dreamed of singing on stage to people. Since my first television appearance in Juguemos a cantar, I decided to design my own clothes. We bought the fabrics and took them with my drawings to a seamstress in my neighborhood, in Santa Maria la Ribera. I explained what I wanted and I did it as it is. In 1993, when we launched a collection of lingerie, it was very innovative at that time because there was no celebrity in Mexico that has a collection of lingerie. It was a controversial project to some extent, but it was worth it.
You're a great entrepreneur. Where does the energy comes to do so many things?
I like to be busy! It bores me without doing something. If I'm not writing for a new album, looking for scripts to return to acting, working for one of the many charities that I support, writing books or designing shoes, I invent more things. Not to mention that, above all, I am a mother! Even without more time, I'm looking to do more projects.
You have two brands of clothes and an eyewear, because you like to design for women?
Fashion is the expression of the person. I am very practical in what I wear. I like to feel that I bring nothing to constricts me or make me uncomfortable. The clothes have to be like a second skin. It is very important to me to find fabrics that feel delicious to touch to help to tighten which should be smooth and where it is needed. Each piece in the collection has a unique personality that always attract attention wherever you go.
How long it took you to make Thalia Sodi Collection?
I took us four years to make this project to see the light of day. Interpreting the strength of the Hispanic market in this country [USA] was the most difficult. It was very important for me to understand that she have the opportunity to serve my people in a much more personal way with specific fabrics and with flattering cuts of dresses and pants. My mission is to design something created particularly for Hispanic women, made by a Hispanic woman who fully understands the need and lifestyle that Latinas has.
In radio and your records you like to promote your Mexican roots. How do you stay connected to Mexico when you're in New York City?
I love to promote my country wherever I go. We have a wonderful nation and are a tremendously loving race. I always go, but I do not do it in public. I go to certain places where no one can imagine that I am there and have a great time. When I'm in New York I look for places that do not let me feel nostalgic.
What do you miss most about Mexico?
Everything, everything, everything! I really miss the restaurants, beaches, speaking my language, take a good mezcal, go to pick fresh fruit in the market or stop by the church that I visit when I was young. I miss everything!
What are the Mexican traditions that you teach to your children?
My children enjoy the most are The Three Kings, the rosca de reyes; the Day of the Dead, the sugar loaf and bewitching the mouse to bring them any surprise if they lose a tooth. My house is bicultural. Their father is Italian and their mother is Mexican, so at home we celebrate with pasta and mole.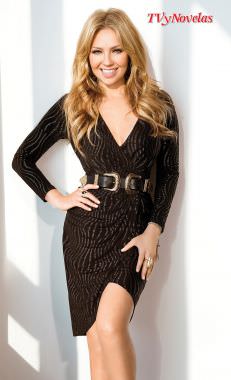 It has been instilled since your childhood to give your children the importance to the spiritual part?
Totally! It is essential for me to know that there is a higher power, one greater than ours. I believe in God almighty, and the Holy Spirit. I am inculcating in my children to seek protection through prayer and to talk directly to God like a friend, a companion.
What experiences or lessons you had as a child to help you be a woman so hardworking and innovative?
Definitely I saw my mother cope after the death of my father, seeing my sisters married one by one, left alone at home almost like an only child and help my mother with the things of every day at home, it made me have a vision of a much stronger woman. Since childhood I understood that she had every opportunity in the world to do what she wanted.
You did bring fiction to reality because in your telenovela characters are women who overcome and achieve their dreams, and also you did it in real life. What would be key points to achieve this?
The key is preparation, because it always exists in the life of every person the right place, the right person and the right time. But, if you're not ready for that moment, that big break happened in front of you and goes to the hands of another person. Also it is greatly influence by the destiny that God has already prepared for you, because as the saying goes. "If it is for you, even you if you try to avoid it (it will "hit" you). And if it's not, even if you get in the way (it will not "hit" you)".
Many of us Latinos has difficultly to integrate into American culture. When you were making the crossover from Mexico to the US, which challenges you've faced?
Definitely the stereotypes strongly affect us so many years, cultural and aesthetic. I remember 10 years ago I was doing a photo shoot with a very important photographer. He excitedly said at the time: "That looks hot, mama! Like a hot tamale! Rrrrrrrrrrrrr". In that precise moment I grabbed my things and leave the photo shoot fanned, I did not care. Recently, in the filming of a commercial, I had to grab an instrument as if having fun playing music that we did, and everything had like guitars, drums, bass, what instrument you think I got? Maracas! Immediately I said in English to the director that if this was his idea of a modern Latin woman, then "This is totally stereotypical and to a degree racist. Because I'm Latina I must use maracas? Where is the sombrero and the chihuahua dog?" The faces of the people was epic! The worst is that they did not do it in bad faith, is simply a concept we have of our culture. Just don't be and we must educate people.
What characteristics and strengths you feel being Mexican that have helped you succeed in the United States?
The Latinos in this country are a powerful and very large force. Our vote greatly helps decide which president comes to power, and that was the case with the current leader, Obama. The important thing is that all Latinos know they are powerful here and are required while exercising their rights, such as voting. On the other hand, the economic strength we have here is very large. We are a culture that, in addition to working, we love to live and socialize.
You said your mother and your husband are great examples for you, how they have helped and motivated you in your challenges as an entrepreneur?
My mother, was without, a doubt the biggest engine that prompted me to live the life I have today, both professionally and personally. She believed in me, in my dreams and even my follies, and always gave me the faith and trust that preparing and fighting could crystallize and become reality. She taught me not to fear anyone and will not change for anyone. On the other hand, my husband, Tommy, has taught me to be much more practical and focused on my plans and projects, both musical and business. Knowing all the shortcuts in the executive world, he helps me find the shortest paths to reach the same result. Together we have formed a creative partnership and we got feedback constantly.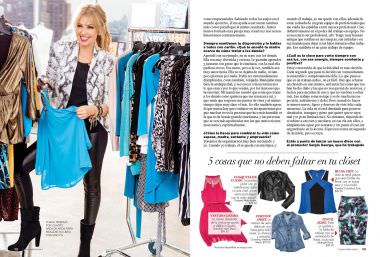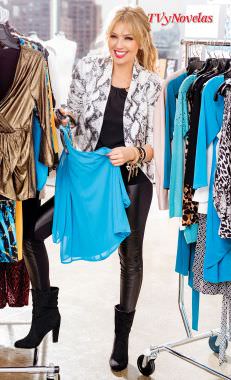 Always keep your disposition and handle them with care, your mother taught you about how to treat others?
I learned by example, in dealing with others. She was very amusing and curious. She liked to learn and meet with people to teach her, with which she could grow. She was soft, but at the same time, was very authoritarian. She did not stop anyone, nor trample anything. She could be extremely disciplinarian, as well as, relaxed. She handles very well the ambiguity, and recognize people for what they were and what they were coming through, the interests that moved them. My mother taught me I had to treat others as I would like to be treated, and I had to respect their views and at the same time makes mine clear. I also learned from her that never to trust appearances because often the person who looks more humble is what will give you the biggest teaching, and people who are more affluent are those who have less money and spiritual.
How did you combine your life as a wife, mother, singer and businesswoman?
We try to organize ourselves well my husband and me. When I work, he stays with our children, and when he works, I stayed with them, in addition to being surrounded by a great team of professionals who takes care my career behind my back. I definitely believe in the power of working together. No need to be professional, eh! I have very good friends who trust their mothers-in-law, their sisters-in-law or their mothers to leave their children with them while they work. That's also a great team effort.
What is the key to always see you in that light, with that energy, always smiling and positive?
I am convinced that happiness is a choice. Every second that passes you tremendously decide to be completely happy or miserable. What happens is that hard work, it is not easy. You have to take the plunge on one, face the things that have hurt us and who don't like us, and fight to take them out and not again to come back. This work takes time and is much introspection, suffering and pain. But when you feel new, light and eager to live happily every moment. Life itself is designed to put obstacles, traps and people who want you to go wrong and puts you limitations. However, it's up to you to get on that train and enroll yourself in this way with them, or simply choose to sit and watch the train without being hooked into madness. The process takes a second decision, but it is yours to make.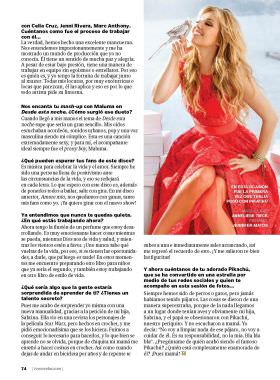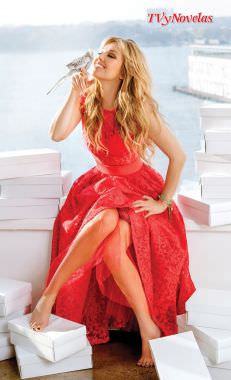 You're about to release a new album with producer Sergio George, who have worked with Celia Cruz, Jenni Rivera, Marc Anthony. Tell us how the process working with him...
Actually, we have done an excellent partnership. We understand impressively and has shown me a world of production I did not know. He has a sense of much peace and joy. Despite being under pressure, he has a way of working together without selfishness or stardom. That's why he is who he is, and I have the fortune to work with the master. All my craziness, however eccentric or crazy they may seem, he applies it and that's what every artist asks for.
We love your mash-up with Maluma in Desde Esa Noche. How did the duet came to be?
When I got my hands on the song Desde Esa Noche I knew it would be a great single. My ears heard accordion, urban sounds, pop and a male voice as my accomplice. This in an extremely sexy song, and for me, the perfect companion was always the pretty boy, Maluma.
What can your fans expect on this album?
It is music to celebrate life and love. I've always been a person full of positivism to the circumstances of life, and that is reflected in each lyrics. What I hope with this album is, in addition to put them all to dancing, go on tour. In my previous album, Amore Mio, we were looking forward, both my fans like me. Now I want to tour with a new show!
We already understood that you never stay still. What are you working on now?
Now I have the illusion of a perfume that I am developing. It's very exciting to do things while you can, as God gives us life and health, and while the winds are in favor. You never know the twists of life, so if you have the opportunity do that before it's too late! At the moment I find myself preparing another book for children and would be the second, and I'm also working on another lifestyle book.
What would be something people would be surprised to learn about you? Do you have a secret talent?
Well I just surprised myself with a new craft, thanks to the request of my daughter, Sabrina. She saw in a magazine the characters in the movie Star Wars, but made in crochet, and asked me excitedly to make them. We go to get enough things to make them, and what I learned well is not forgotten, because when I was a child my mom taught me to do things in crochet. Also just as when I stop riding bicycle for years and suddenly get up and immediately pulling it out, so I comeback which reminds this. And I came out with good figure!
Now tell us about your beloved Pikachu, who has become a star for half of your social networks and who accompanied you in this photo shoot...
We always had dogs or cats, but we had never had birds. Things got a super strange way, because nothing came to a place where they had birds and obviously my daughter, Sabrina, and the father became obsessed with Pikachu, our parakeet. And they did not listen to mom. I said, "I will not clean anything of this bird, you will take care of it. It is your responsibility, not mine Bla bla bla..." Please ask me who ended up being with the famous Pikachu? Who is completely in love with him? Well, mama!