Singer, actress, fashion designer, entrepreneur, writer, and mom of two Thalía shares her parenting, lifestyle, fashion, and beauty tips as a POPSUGAR Latina contributor.
5 No-Fail Beauty Tips I Learned on the Set of Telenovelas / Everything Telenovelas Taught Me About Beauty
After appearing in so many telenovelas and working with so many different makeup artists, makeup brands, and hairstylists who changed my look for each role and sometimes several times in one day, I walked away with a few tricks up my sleeve. Here are five of my favorite and most useful ones.
1. Contouring Works
Back in my telenovela days, my makeup artists on set liked using the Kevyn Aucoin contouring techniques that now many people can't live without. They used to make my face more chiseled and made my nose look much more defined and slim. The fun part was that they actually taught me how to do it!
From them I also learned to contour my cheeks with darker tones and to dab gloss on my bottom lip, just a little bit in the center, to make them look more voluminous. Those are not techniques that I necessarily use every day, but I definitely make great use of them when I go out to dinner, parties, and red carpets... whenever there will be photographers snapping away.
2. Pampering Your Hair Is Important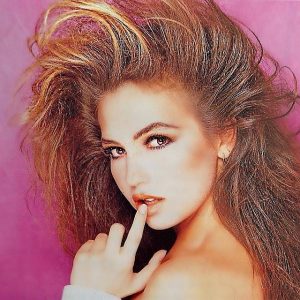 As I have mentioned before, I literally fried my hair after so many years of intense hot roller, curling iron, and flat iron use and harsh product overload.
At some point, while shooting telenovelas back to back, we had to devise a solution to keep my hair from getting worse and to make it stronger. My hairstylists and I came up with the idea of using a long hair wig at least twice a week. That way, my hairstylists could apply an intense treatment mask while putting my hair up in a bun under the wig. That helped my hair so much, and I still use intense repair masks to keep my hair in good shape!
3. Don't Forget to Take Care of Your Feet
Never-ending hours in high heels killed my feet! Many times there were several of us actresses shooting 35 scenes per day, all in heels. You could imagine the relief we felt every time we could sit to take a break.
I remember taking two 10-minute breaks per day to eat and to review my lines. I also liked when I had to stop to do a hair or makeup change because it would allow me to sit for a few minutes.
I spent those breaks elevating my legs against the wall, and I would also rub refreshing lotions, eucalyptus-, lemon-, or almond-lemongrass-based, on my feet. This ritual helped me prevent inflammation on my legs and feet and also helped me prevent the formation of spider veins and varicose veins. On days when I knew the hours were going to be much longer, I wore compression socks to keep my circulation flowing well. They relieved me tremendously.
4. Makeup Sharing Is a No-No
t took several skin and eye infections to learn an important lesson... the makeup brushes that touch my face and eyes need to be impeccably clean!
I was so young when I started acting in telenovelas that I had a lot to learn and absorb. At first, it was so common to have my makeup applied with shared brushes and products that I did not think too much about it. Then, when I started breaking out too often, it dawned on me that I needed to stop that right away.
Nowadays, I do my own makeup 90 percent of the time. I always use my own products, and I do not share anything with anybody. When I have to get my makeup done professionally, my makeup artists keep my sets of brushes and products in bags labeled with my name so nobody else would use them.
I can't stress this enough. Do not use any products on your skin, eyes, and lips that someone else has tried before you. There are cases in which the infections acquired from shared brushes have been so severe that people end up incapacitated from them. I also know of people who have acquired lifelong infections on their lips, such as herpes, from shared lipsticks and lip brushes.
Hence, I learned to be extremely careful and to be really consistent with brush washing several times a month. All you need is baby shampoo to clean your brushes and 24 hours to let them dry, preferably upside down.
5. Eating Healthy Keeps You Energized
Last, but not least, I learned to eat healthy snacks throughout the day to keep my energy and sugar levels in check. The days I didn't stop to eat snacks while on set, I was weak, distracted, and exhausted.
I prepared my snacks ahead of time; I divided them in small portions and had them handy to eat about every two and a half hours. To this day, I try my best to eat every two and a half to three hours.
Some of my favorite snacks are a handful of almonds or nuts and a small banana, a piece of cheese with grapes or berries, and a protein smoothie. I usually eat three meals and three snacks during the day, including a snack before bed that usually consists of kefir with salt or cottage cheese.