Thalía shares this album titled Latina, not only because she is considered as such, but because the community has a very important place worldwide.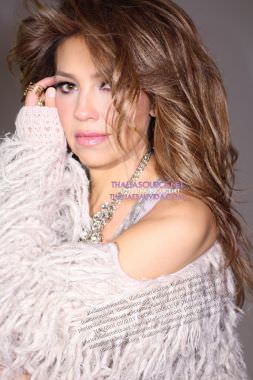 Despite her great multi-faceted success such as in fashion, Thalía has not neglected her singing career, with various musical productions that have remained in taste and delight of her fans.
This time, the star launches her new album Latina, a fusion of rhythms that only the singer can achieve, without neglecting her unique personal stamp on each themes.
There are 13 songs that demonstrate the versatility of the singer and will go on sale starting May 6.
"We really worked hard on this album, to find the fusion of Latin music, regional, salsa, pop, urban Mexican instruments such as trumpets, Colombians accordions and other. We worked with great delicacy and love, the result is very free and happy, it makes you dance and feel good and that's what you want in life, have fun and live it, we do not know until when we're here," Thalía said in telephone interview with SemanaNews.
For this material she works closely with a connoisseur of music, which has been responsible for launching the careers of great artists of tropical music.
"I am very excited about the music and we have worked with Sergio George, a wizard of urban music, salsa and pop. He knows it all and this is the result."
Homemade
Thalía kept her followers aware of the development of this project through her social networks and so are eager to hear the final product, which as the artist herself describes it, has a very personal essence.
"The father of this album is that we did it in a studio that I have at home, it was homemade, if I needed some strange sound we were leaving for the garden to find it or went to a corner of the house and there you were covering to sound different. Microphones were moving, we gave a lot of turning, but the important thing is that it was done at home and that gives you that freedom, feels authentic, relaxed and fun and that makes the difference."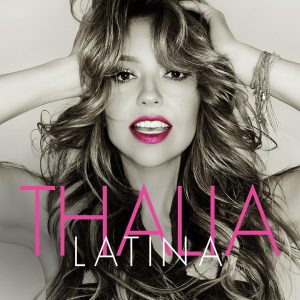 In addition, this production enjoys the company of great stars in unique collaborations, one of them, Desda Esa Noche, with Maluma, the successful first single of Latina.
"All these collaborations were given without looking for them, without think about them. For example, Desde Esa Noche with Maluma, I remember when we finished the song I told to Sergio that I need the voice of a man to answer me, on this way is like the history of a couple, he told me 'what about Maluma?', I told him that I will be excited, will be great, and he goes to Columbia, recorded his part, and we made the video. And also occurred collaborations with Silvestre Dangond and De La Ghetto, I am very excited to have them both on this album."
The Amor a la Mexicana singer, seeks to convey what it is in each of her projects and in Latina she has made a work that surely transcend.
"I'm always searching to learn, to know everything around me, trying to give the best interpreter to the people, being authentic. This album was recorded in different places, to show with sounds what is happening with current musicians who have innovated musical fusions. All this makes it very cool and manages to attract people, that is nice."
For everyone
Committed as ever to her community, Thalía wants to motivate Latinos to have the opportunity to take risks and work for their dreams, a purpose that would materialize in the title of her album.
"The Latino community is currently very attached globally, everyone wants to hear our rhythms, hear our singers, everyone wants to know more about our cultures, colors and gastronomy. We are engaged in politics and in business. Latina was the most natural title of what we are experiencing as a society and culture."
But the word is part of a personal experience that shows its roots and identity.
"This word has been linked to all these years in my career. On my trips where I took my albums, always listening in various languages, they talk about me in the media & newspapers and the only thing that I understood is that I'm Latina." she concluded.