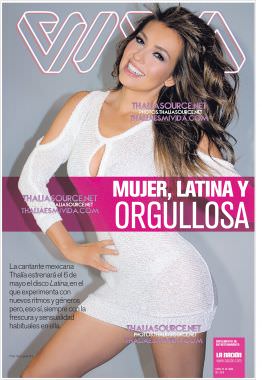 The 13th studio album of the 44-year-old artist is full of different musical genres that make tours of the pop ballad, ranchera music, salsa and even urban themes.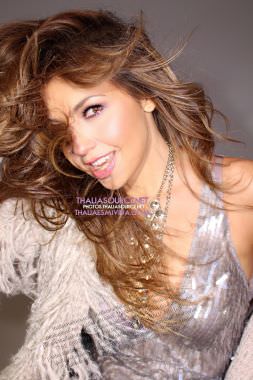 With the conviction that shows her feminine empowerment and wealth of Latin American music, the Mexican singer Thalía named the 13th album of her career Latina.
The studio album will be released on May 6 and through the launch of this production and the premiere of the video for Desde Esa Noche, in collaboration with the Colombian Maluma, the singer said that this is one of the most enjoyable jobs she have done in all years of her professional life.
The album, which have 13 songs, travels on various genres that made Thalía to venture to sing new rhythms for her, which ensures led to the limits of her talent. In an interview with Viva, the 44-year-old singer said that most work costed her, but she keeps a great affection, went to the urban [genre].
"This genre embraces you, captivates you. By living in the United States you realize what it sounds by just turning on the radio, it's what is in vogue, moves you, likes you, makes you feel free, sexy, hot; and so is this album: bold, invites you to move and to have fun", the singer explained.
For the course of this production, Thalía sings salsa, trance, pop, boleros, rancheras and regional Mexican; vocal versatility is one of the high points in production.
"I'm very happy because it is a time in my life in which I needed to do a balance; a connection between what I am at this time as a woman, as a person and what are my Latin roots, as Hispanic", she said.
The production is distinguished by the merging of instrumentals in each of the songs. There are strings and winds, Mexican trumpets and a Colombian accordion, the expression of Latinity in this album are heard from beginning to end and the end result was possible because the artist is accompanied by two perfect accomplices who understood what she needed to express it in her new music.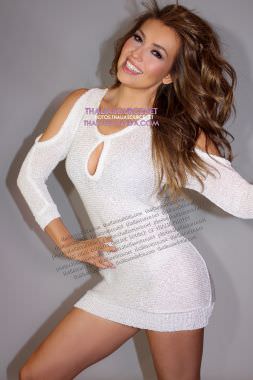 "As Latinos we have so much music, culture, instruments and fusions, that to achieve the balance of the album had the help and guidance of Sergio George, a master in salsa and urban Latin rhythms, and with the support of other great Mexican producer such as Armando Avila, as he has the most pop and fresher side," said the singer.
Thalía said that one of the most important moments in the recording of Latina, was the work she did with Maluma.
"Since I heard the song I knew I had to record it with someone to help me tell a sexy but not aggressive story; nice and bold but soft and organic. Immediately I thought of him and when we invite him he did not think twice; The video was recorded in Chinatown in Manhattan and the final result left us impressed, imagine that within two weeks of being online we reach over 10 million visitors," she said.
Thanks to Latina, Thalía hopes to return to the stage with a tour which aims to visit different countries, something that she does not done since 2013 when she toured the United States and which also included a date in her native Mexico.
"I want to go to Costa Rica, I have many years without singing there, I need it, I want it. I hope that by September we can start with a tour where I will sing the the hit songs and all this new stuff," the singer concluded.