The Mexican singer returned with the album Latina, her latest album that is going on sale. Before the big day, Thalía spoke with TKM and she spoke all about her new songs and her experience of working with Maluma, in Desde Esa Noche.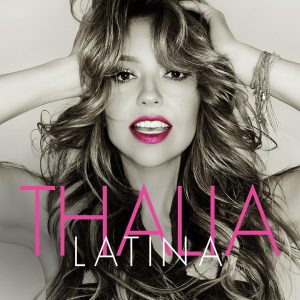 You are about to release your new album, Latina, how do you feel?
I'm very excited because it is a dream come true I had in my soul from few years ago. I have long wanted to make an album that calls back of my childhood to that music that played in my neighborhood, those sounds that escape from the windows of the houses when going to school, or the market. Those songs that mixes salsa, mariachi, bolero, the type of music of Michael Jackson. Those were the footprints that were very present and this album is a reflection of Latin music in full swing; and it has amazing songs that put you to dance and feel well.
What do you notice the differences between this album and the previous ones?
Each disc, each production contains a different universe, is a picture of who you are at that moment. This album is at a time when I know what I want and I know where I'm going and what I want to share, the joy of life. Trying to see everything positively and embrace individuality and freedom in music like the love stories of each song.
Desde Esa Noche is your duet with Maluma. Why did you choose it?
These collaborations in Latina went out without thinking about it, were developed in an organic way. What happened with Desde Esa Noche was that I had finished the song from head to toe and sat down to listen with producer, Sergio George. Then I told him I felt that this song was like a ping pong, I needed someone to respond me in this song. I asked if he knows somebody and told me no but at that time he was chatting with Maluma then I asked him to ask him and he said yes. The next day Sergio got on the plane, went to Colombia, Maluma recorded the song and the rest is history. I am very happy because he and I had a very special magic.
What will be the next single?
The next song coming out is Vuelveme a querer and it is a powerful and heartbreaking power ballad. My followers are always looking for that duality in my music, you can suddenly find that ballad that helps them rebuild or break the heart and those songs of joy or celebration.
It's been long you have not been to Argentina, is there a possibility that you visit again?
Sure I have wanted to go. It's been so long I have a love affair with Argentina, for me to go is synonymous with happiness. Hopefully now that we are starting a tour I can go there and we can sing, jump and dance as we have always done.