Thalía is happy. After winning in the top 10 most downloaded albums on iTunes with her Latina album, she is excited to stage a comeback to remember her hits of yesteryear and present the album to her army of followers.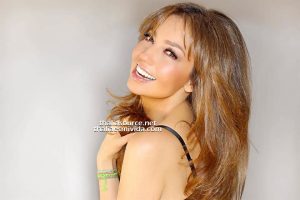 "I'm super addicted to the adrenaline and perfectionism. I love those things that go really well, which go beyond what I imagined in my dreams," says Thalía, who plans her new international tour, how she will appear on stage, arrangements of her songs and every detail.
"In September we will start the tour. It is the celebration of Latin culture and will have such elements (of Latina) more obviously the 'oldies' and 'singles' that have been part of my story with my audience".
And it is her being in touch with her fans through social networks, is not enough. They ask a tour to celebrate over 25 years of her solo career. And this year they will be happy.
"I'm very excited because for an artist there is nothing more exciting than the process of creating the dream, that is, the study process, to gather sounds, to choose and find songs, and the moment when you're singing live with the public is the magic of this business," she says from the office she has in her home in New York.
This article appears on May 19, 2016 issue of El Norte, Mural and Reforma newspaper
Virtual Woman
If anyone knows how to use social networking it is Thalía, both to share work projects like moments of her personal life, have 8.38 million fans on Twitter, almost 18 million in Facebook and more than 4.5 million in Instagram; therefore, the impact of her publications is replicated millions of times.
"Obviously I do not expose my children, but suddenly there are images that they are running, a small voice, or the little hand grabbing something, they are brief moment when I suddenly say 'oh, this is something I have to share with my people' or things of my husband and me. I prefer that to be ours, is our magic, our universe," she says.
"In most things in the privacy of my home I am also very particular, I am very pragmatic and selective with my family. At work I do craziness: I have a team that is also crazy with me and make videos, miniseries and laugh, but that's my job and that I am open and exposed".
More than 39 million people have seen the video of Desde Esa Noche, the Latina single recorded with Maluma, also this week the material also occupies first place in the Billboard Top Latin Albums chart.
So many projects
— Thalía prefers not to talk politics, let alone get into controversy over Donald Trump, Republican candidate for the US Presidency, but says that the Latino vote is essential in that country.
— She is incline of her clothing line at Macy's, doing autograph signings and searches for the release date of Viva Kids 2, her children's album, and a forthcoming book; also she produces plays on Broadway with her husband, the mogul Tommy Mottola.
— Although she would like to accept the proposal of the producer Salvador Mejia to make a soap opera, it needs to be an attractive project that fits her current life, in personal and work life.
— About her health and Lyme disease, she says that it is controlled but must be kept constant medical review to prevent a strong resurgence.