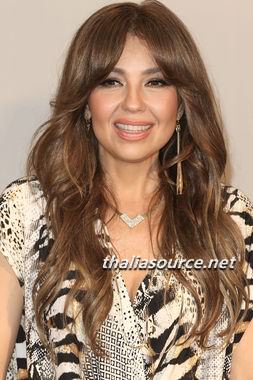 Thalía is recognized worldwide for her telenovelas, by the numerous sales of her records and lead the lists of "the best" after walking on a red carpet. But now, what is most exciting, is her line of fashion accessories Thalía Sodi for Macy's.
"I feel very emotional for all the good things that have been happening with the new collection", the Mexican star expressed to Variety Latino during the presentation of her brand for Macy's in Los Angeles. "Having a presence in one of the most iconic US stores is a great opportunity for Hispanic women. The truth is that I am proud to represent our community. I feel this is a collection that everyone will love, not just Latino".
Although fashion line has her full attention at this time, Thalía has not given up the idea of returning to television. Working on soap operas for at least a decade took its toll on the artist, but she is hoping that some day soon the perfect project will fall into her hands.
"I love the idea [of doing television]", she said, adding: "I love acting ... It's something that I'm passionate about. I love to learn a script for television, become with different people and tell stories. But I also love my freedom and personal time that I have now. I have total control of my schedule, and this is what I like".
The wife of Tommy Mottola also said that "for many years" she is looking the "perfect project". She said that her ideal a production that does not involve "filming for long periods of time. I think that I was traumatized by all the hours I had to work when I was in telenovelas. Comparing being in television with being in a room tied with chains".
But what the mother of two children is not tired of is making music. Her most recent album, Latina, which was released last April 21 and it represents its thirteenth studio production.
"I am very proud of my new album. Very grateful that my fans support me and knows that I love reinventing. Accepting all my follies. This album helped me to return to my roots, with the Latin sound that defined Thalía, but away from the woman I am today", the singer said that it also makes her happy how receptive the public has been with her collaborations as part of the album (Maluma, De La Ghetto and Jacob Forever, among others).
Finally, and as we anticipated Thalía's concert tour which will start in America which is scheduled to begin in September.
"The first phase will take place in the United States and Mexico. Next year, if God willing and we are all healthy and well, we'll go to Central and South America. Beyond that, who knows? They stay undetermined", the artist added.