Thalía Sodi has animal instincts and she's channeling them through her fashion collection at Macy's.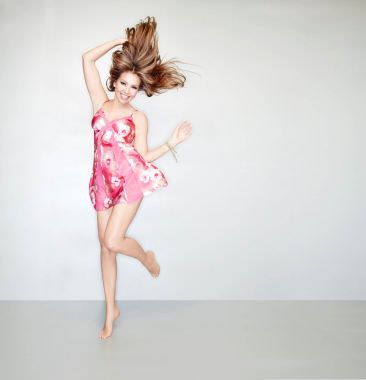 "Everyone who knows me knows I love the cheetah prints," said the Mexican pop music and soap opera star who not long ago added fashion entrepreneur to her curriculum vitae. "One little accent of cheetah print makes you feel sexy, like you are doing something dangerous. Like I am crossing the line."
The Thalía Sodi brand at Macy's is crossing into new territory, with the addition of Thalía sleepwear and intimates starting today at Macy's stores and on macys.com.
The offerings include "cozy" pajamas priced at $36.98; sexy chemises, $26.98 to 36.98, and wraps including bridesmaid styles, priced $29.98 to $36.98, designed by Macy's and Thalía, and manufactured by the retailer's suppliers. Colors range from bold purples and blues to soft pastels, blush shades, ivory and black, florals and animal prints. There is feminine detailing with lace trims, appliqués, bows, slits and cutouts.




view more images from this album
Thalía is also expanding with shapewear and bras through a new partnership called Thalía by Leonisa, which is manufactured by Leonisa in Colombia, with Thalía serving as the brand ambassador. The bras, bodysuits, briefs, shorts, leggings, arm shapers and waist trainers, priced from $25 to $80, are also exclusive to Macy's and will be available in August.
The Thalía collection, introduced in February 2015 with ready-to-wear, shoes and jewelry, with denim subsequently added, was Macy's biggest private-brand launch ever, though executives don't disclose volume.
"This is like a big tree that we want to grow with different branches," Thalía said. "I need those roots to be strong and then keep it growing. We are definitely talking about kids, home, something for the guys. I see it all, but the most important is having the foundation, the roots."
The Thalía Sodi products are merchandised in different departments on the selling floor. For example, Thalía innerwear is found in the intimate apparel department, and Thalía shoes can be found on the shoe floor. Often the brand is highlighted in displays that pull products from the various categories together for a complete look.
Thalía Sodi at Macy's reflects the department store's strategy to offer exclusive product with celebrity tie-ins such as with Martha Stewart, Kelly Ripa, Jessica Simpson, Sean John, Ariana Grande, and recently a temporary collection was launched with Lady Gaga and Sir Elton John.
It also reflects an effort to cater more directly to Latinas, who represent a major, growing part of the company's customer base that Macy's executives have acknowledged was overlooked in light of the dramatic increase in the demographic. It's expected that soon about 20 percent of the traffic in Macy's will be Latino. Last year, the retailer said it was in the high teens.
Marc Mastronardi, Macy's executive vice president and general merchandise manager of center core, said the Thalía collection is attracting fashion consumers generally and not just Latinas. "It really has quite a bit of fashion in it. It's geared around a lot of great color stories and great prints," Mastronardi said. "It was always a hope if we were able to create fashion product with a great fit, it would allow us to surpass a singular demographic."
"There is something in it for every woman, no?" Thalía asked rhetorically. "It's fun, sultry. There's sexy stuff, and then there is the more refined and elegant side. Women have so many angles. We are very emotional. Very sensitive. We live life loud and clear. I want to embrace all of that in this collection."
The key, Thalía said, is that the clothes are comfortable, and that the fit and feel are "perfect, like a second skin."
Thalía said she's very busy as a mother of two, singer, actress and philanthropist. Her "Latina" album launched in May, a kids album will be released next year, her fifth book is coming out soon and she's getting ready for a music tour beginning in September. Asked how she fits working with Macy's into her schedule, Thalía replied: "I am like a good Virgo — a compulsive person. I have to be involved in everything."