Thalía in Siempre Mujer magazine August/September 2016 issue
Thalía: "I want to do crazy and wild things"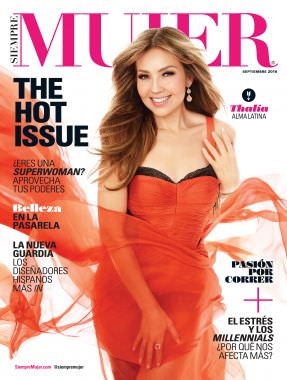 With over 25 years of experience, the Mexican diva Thalía has already tasted the sweetness of success as a singer, actress and entrepreneur.
Similarly, she has found the balance in her personal life, after 16 years of marriage to mogul Tommy Mottola, with whom they have two children.
"The balance between professional and at home is important in achieving teamwork. For example, if I'm working, I know that in my house is a team of people who are caring for my children, who are protecting them, they are seeing their tasks, and so on. When I'm home, I know that this team of professionals are ensuring everything of my career in music, in business, everything that surrounds my profession," she said.
However, the 44 year old artist says she remains have much to do, both personally and professionally.
"There's always dreams, always hopes, there is always that tickles in the heart, in the soul. As a person I want to travel, do crazy, wild things. As a professional, I'm just beginning," she said in an interview with Al Rojo Vivo.
Thalía is promoting her 13th studio album, Latina. That project will go on tour in the United States and Mexico in "Latina Love Tour" concerts. Within that context, she explains how to define the Latin woman.
"What I value most of the Latin woman, definitely is their strength, their power, their desire to succeed, to get up, no matter the storms. Latin woman works hard, is very dedicated, we have one, two, even three jobs at once, we got home, we take care of the husband, children, we like life, eating, partying, dancing. We are very complete and we play around a lot," she said.