The Mexican artist has reason to be happy: start of her concert tour in fall, celebrates the success of her business alliance with Macy's and embarks on a new journey as UNICEF Ambassador.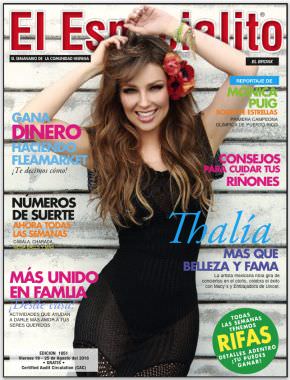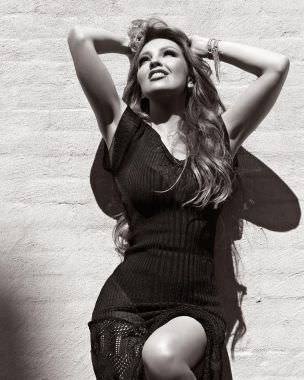 By: Salvator Laudicina, Photos: Uriel Santana
While many imagined to be committed to the sweetness of leisure time, Thalía works like an ant —with expectations and ambitions of any woman who struggles every day to reach their goals— in her office in New York.
The last details of her second children album, finalizing a new book and closely monitors every detail of her clothing line for store chain Macy's.
All this in the midst of the promotion of Vuélveme a Querer — second single from her album Latina — and the first rehearsals of Latina Love Tour, concert tour that will begin in late September in New Jersey. "Neither the beauty or fame will guarantee success. Everything I've accomplished is the result of discipline. Being an artist does not exempt me to get up early, work hard and require me to maximum to achieve my goals," she says with a smile that does not leave either the sun or shade.
She was recently appointed as UNICEF Mexico Ambassador to work for homeless children. From the words from Thalía, "when you're a mother, you become more human. I feel blessed to be part of this cause." Unstoppable and full of dreams, she is reading scripts for her return to television. "I love to act. Sooner or later, it will happen," she adds.
Pure Adrenaline
El Especialito: Your tour starts in New Jersey and will visit various cities in the USA. How will you define the musical concepts of your concerts?
Thalía: The concerts will be full of life and joy. My fans will travel in time through my musical history. There will be a connection between the Thalía of legendary songs like Love and Un Pacto Entre Los Dos with the present Thalía. It will be a magical and unforgettable night where there will be a lot of adrenaline.
Successful Businesswoman
El Especialito: You launched your lingerie line for Macy's. Besides this, the success of your clothing line is undeniable. In average term what are the projections of the store chains with your business project?
Thalía: It's not the success of Thalía, it is the success of Hispanic women. I'm sheltered by an excellent team that has struggled with me to offer a collection that understands the needs of Latina women living in the USA. It would be unfair to say that the merit is mine alone. I'm happy, the launch of the lingerie line represents a step forward. Macy's have are many plans, but all in good time. It is not running, but to enjoy the journey.
Committed with Children
El Especialito: You just have named UNICEF Ambassador in Mexico, what are the plans you have with the organization to help homeless children in your country?
Thalía: There is no recognition or reward that can match this. It is a real honor that UNICEF has given me this title. I am my excited and anxious to start working with them. As a human being, I have the responsibility to contribute my small part to build a more equitable society and ensure the welfare of Mexican children who lack opportunities.
Debt With Her Audience
El Especialito: It is undeniable that the people misses you in soap operas. How should be the character to come back to television?
Thalía: More than the character —which should represent Latin women today: intelligent, romantic and able to get what she aims— is a matter of time. Producers always have me in their mind and that I appreciate it greatly. I'm reading very interesting miniseries stories. I want to make a short project that suits my current lifestyle. I owe it to my audience. Thanks to my Marias and Rosalinda, I traveled the world and I win a place in their hearts.