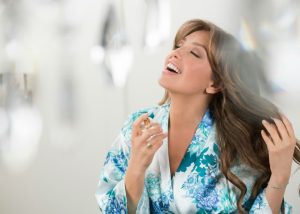 With all the captivating scents available out there, finding your perfect perfume or cologne can seem a little overwhelming. More than once I've purchased a perfume that smells delicious on a friend, only to try it and find out it smells very unpleasant on me.
Scents will usually smell uniquely on different people — that's why it helps to understand the types of scents, and how you can best find the one that's perfect for you.
Perfumes are categorized into four groups, according to their characteristics, which are called "notes".
Floral. There are many flowers that smell delicious, so it's no surprise that this is the most popular of the scent categories. Some examples of the notes are gardenia, rose, and orange blossom. If you like the smell of flowers, try Marc Jacobs Daisy, Prada Candy Florale or Givenchy Very Irresistible.
Fresh. These type of perfumes smell like nature: fresh-cut grass, or citrus. If you like being outdoors, or love summer, try Clinique Happy, Dior Addict or Giorgio Armani Acqua di Gioia.
Oriental. These notes are bolder and more exotic. Some common ingredients are vanilla and amber. They are better suited for colder months, nighttime, or if you're a sultry person year round. Try Jimmy Choo, Eau de Cartier or Gucci Guilty.
Woods. These fragrances smell like wood and moss, for example, oak, patchouli, and pine. A lot of men's scents have wood notes. Try Narciso Rodríguez For Her, Lancôme La Vie Est Belle or Dolce & Gabbana The One.