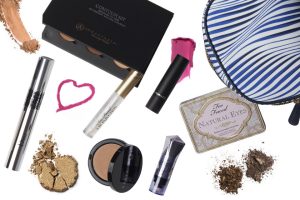 I've spent so many years on the set of telenovelas and photoshoots, getting my make-up done every day, that I picked up a few tricks along the way.
I have tried lots of wonderful products, and many horrible ones, so let me share with you some of my favorite items in my make-up arsenal, in the hopes you can try something new and who knows? Maybe you can find your new favorite!
Chanel Lift Lumière $67. I like to use the shade Soft Bisque 40, but there are other shades for you to pick from. I love wearing this medium-coverage foundation because it hides small imperfections and makes my skin seem as if had gotten a "lift".
Benefit Cosmetics "watt's up!" cream-to-powder highlighter $30. This highlighter creates a very beautiful and natural glow that makes me look very fresh.
Too Faced Natural Eyes $36. Since I like to have fun with my lipsticks, I keep my eye make-up more natural. This palette has a handy guide to help you do your eye make-up, whether you're doing a day look, a classic eye, or a more fashion-forward smoky eye. I love mixing and matching color depending on my mood.
Anastasia Beverly Hills Contour Kit $40. I learned how to contour on the set of telenovelas before contouring became the phenomenon it is today. My make-up artists would use the Kevyn Aucoin techniques to make my features look more defined. I don't contour my face every single day, but it is a great technique to learn for whenever you are going to be photographed.
Bobbi Brown Illuminating Bronzing Powder $42. I like to use the shade Aruba, because of the sheerness of it. A lot of bronzers out there have shimmer, but this one has a beautiful matte finish, perfect for every-day use.
MAC Pro Longwear Lipcreme $18. Everyone needs a great pink lipstick, that's why I love the Love Forever! shade. I also love how incredibly long this lipstick stays on and that it's not drying like a lot of other long-wear lipsticks.
Too Faced Lip Injection Extreme $28. Once you get past the tingling, which only lasts 5-10 minutes, this lip gloss will make your lips look fuller, without any surgery.