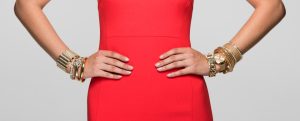 Everyone loves a good arm party, but they're not always easy to pull off. Follow my simple tips to find out how you can wear this trend and show off multiple bracelets at once!
General Rules:
If you're new to stacking bracelets, the easiest way to go about it is to get a bangle set, and then add extra pieces to it.
Stick to the same color palette.
You can also pick one bracelet to be your focal point, and combine the rest to go with it.
If you're wearing lots of bracelets, it's a good idea to wear daintier jewelry everywhere else, like a simple, thin necklace, and/or small earrings.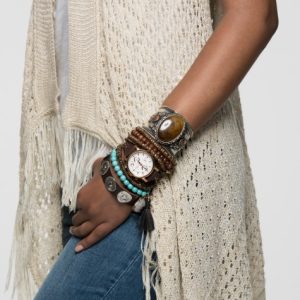 1. The Bohemian Beauty
This look is all about the beaded and friendship bracelets. You know how much I love friendship bracelets made with colorful threads!
Brown leather is a great boho choice.
Don't be afraid to play with color, especially turquoise.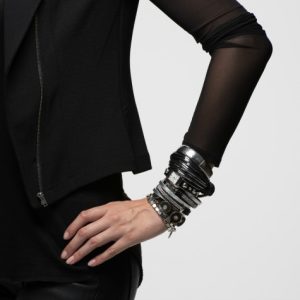 2. The Rocker-Chic
Toughen up a feminine outfit with a stack of edgy bracelets.
I like to combine black and silver bracelets when I'm rocking this look.
Including a leather bracelet is a must!
Also look for bracelets with studs, skulls, and other rock-like detailing.
Don't forget to search for accessories in the men's department, because you never know which treasures you might find there.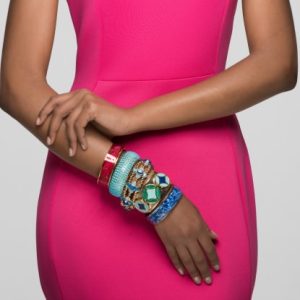 3. The Color Lover
If you prefer to have a rainbow of color on your wrist, pick out colorful bracelets and mix them in with your favorite metal.
Pick complimenting colors, and most importantly, have fun!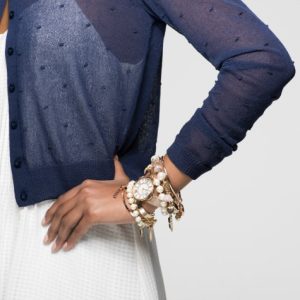 4. The Preppy Girl
Pick your favorite metal or choose a pearl bracelet as the foundation piece.
Monogrammed bracelets are perfect for this arm party!
Get thin bangles with a geometric pattern.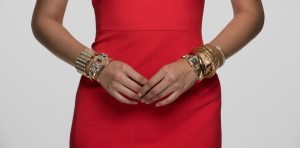 5. The Gold Lover
If you want your arm party to look expensive without spending too much money, go for a black and gold combination.
You can also add geometrical and minimalist patterns.
How do you like to stack your bracelets? Will you give any of these combinations a try?