Thalía: Latina Love Tour on October 17, 2016 at 8:30PM at Auditorio Nacional (10,000 capacity) in Mexico City, Mexico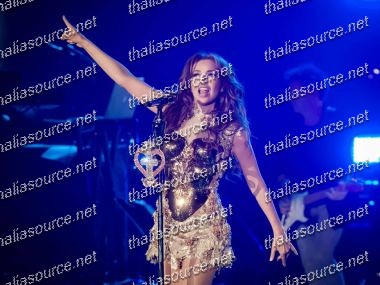 The singer once again shows that she is the most important Mexican star in music with her Latina Love Tour.
With an energetic concert, Thalía returned to the Auditorio Nacional where she paid a brief tribute to the late singer Juan Gabriel, whom he remembered fondly. Nearly 10,000 people gathered at the colossus of Reform to be part of this tour titled Latin Love', which began with its emblematic songs like Un pacto entre los dos. Thus "The Empress of Beauty" surrendered to his audience, who professed to them her infinite affection, while images displayed throughout the background recounting her career.





view more images from this album
"We have always been intimately connected," said the actress while singing En la intimidad, Fuego cruzado, Sangre, Pienso en ti, Amarillo azul, the latter in which she wore traditional sunflower ornaments. "There's nothing like home, really, if you only knew what I feel to be here with so much love, I feel I'm still the girl of Santa Maria la Ribera and that I'm living a fairy tale that I don't want to touch", she said.
But if these words were welcoming, the sensuality that overflowed on the stage made the audience love her in that evening, where she admitted to being a shy girl, who found in music a form of expression that frees. "Music has been my therapy since I'm young and with music it self-medicate me, I think it heals us many things like loneliness", said Thalía, who wore a metal corset with a gold skirt, that emulate the Greek goddesses. However, she could not thank and pay tribute to the recently deceased Juan Gabriel, who a few years ago gave her the song Gracias a Dios, which she sang with deep affection, as well as Insensible.
Accompanied by her guitar and enjoying the affection performs Amore mio, Más, Por lo que reste de vida and Qué será de ti, the latter the audience became her choir. Strong signs of affection and some compliments invaded the presentation of the singer, whose audience celebrate with this of her musical comeback, which began last September in the United States. With the song Habitame Siempre Thalía remembers her mother, Yolanda Miranda, who died in 2011.
Leaving behind the sadness and putting a Latin touch and evoking the lush rumberas by performing Pen negra. In this account she could not miss her story as an actress reminiscing the Marias that is immortalized in soap operas like María Mercedes, Marimar and Maria la del Barrio which were present but it also set as a precedent to bring a touch of Latino rhythms.
In the final stretch she could not miss the songs Amor a la mexicana, Piel morena, Seducción, Desde esta noche, A quien le importa and Arrasando.
No doubt it was the perfect homecoming of Thalía and what better to do was accompanied by her loved ones and almost 10,000 people gathered at the Auditorio Nacional that had to be part of this Latiina Love Tour.