Thalía: Latina Love Tour on October 18, 2016 at 8:30PM at Auditorio Nacional (10,000 capacity) in Mexico City, Mexico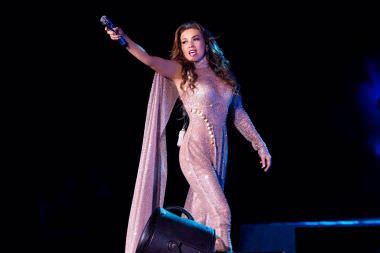 Thalía achieved historic reunion with Timbiriche
Mexican singer surprised her fans in her second concert in Auditorio Nacional in Mexico. The Tuesday night of October 18, Thalía performed for the second time at the Auditorio Nacional with great success, this as part of her Latina Love Tour
In this special night for the Mexican singer she could not miss to surprise her fans and Thalía achieves what few expected, a historical reunion with her former bandmates from Timbiriche.
After a trip back in time with a video showing the best hits of Timbiriche, Thalía welcomed one of her friends.
"I remember in my room, a poster that I had, was a handsome boy, and he was I think my first crush, and I imagine so much of you... And there was a girl who always thought 'Oh that beautiful, that girl so pretty!' and that moment, on that wall, I felt something, something indescribable, something that motivated me, something that filled my eyes with stars, something she could not understand, something I wanted to be, something I needed to be, and from then we were always together", the singer said.
Then, Benny Ibarra was the first to appear on stage at the Coloso de Reforma to sing Junto a ti beside the Latin star, when almost 10,000 fans chanted with them.
Minutes later, Erik Rubin and Sasha Sokol appeared on the same stage with them. At the end of the song, the four ex-Timbiriches sang Si no es ahora. After finishing the song, the ex Timbiriche merged into a warm embrace.