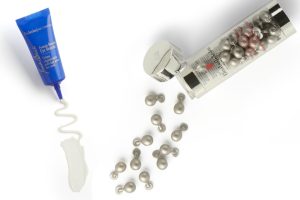 I love taking care of myself to make sure I look and feel my best. Whether it's spending time at the gym, reading alone in the bathtub, or giving myself a mini-facial, I enjoy making an effort to nourish my soul and my physical well-being.
I've mentioned many times that no matter how tired I am, I religiously take off my makeup at the end of the day, and I moisturize like it's my job. As the years have passed, my routine has stayed the same, but the ingredients I use have changed a little. When I hit my 30s I started to worry more about preventing aging, and spent a lot of time researching the best anti-aging ingredients for the skin so I could fight time and trick my face into thinking I am much younger.
Let me show you my favorite anti-aging ingredients that I still use!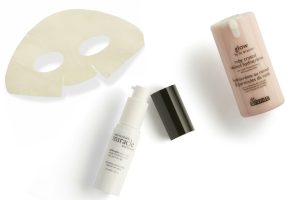 1. Retinol
Retinol is a MUST for collagen-depleted skin. As you age, collagen (a protein that makes skin stick together) breaks down, making your skin less elastic and causing wrinkles. Retinol works hard to make extra collagen and to get rid of old, dead skin.
Of course if you get a retinol solution from your doctor you can expect faster results than with an over-the-counter lotion, but you can look forward to seeing results after 3-6 months of regular use. Unfortunately, there's no overnight solution to aging.
Do you know someone using Retin-A? Retin-A is the brand name of the first FDA-approved Retinoid (Retinol in chemical form) to treat severe acne. Therefore, if you suffer from acne, constant Retinol use may take care of two issues at once!
Try: Shiseido Benefiance Pure Retinol Intensive Revitalizing Face Mask $63. Dr. Brandt Glow Ruby Crystal Retinol Hydracrème $65. Philosophy Miracle Worker Miraculous Anti-Aging Retinoid Eye Repair Cream $68.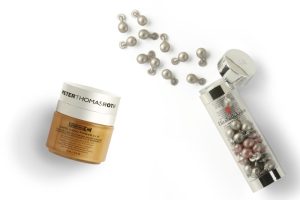 2. Vitamin C
"Anti-oxidants are all the rage and for good reason, as they can promote youthful skin by countering the effect of damaging free radicals in the skin", says Diana D. Antonovich, M.D., Assistant Professor, Department of Dermatology and Dermatologic Surgery at the Medical University of South Carolina. "Of these, Vitamin C is backed by the most scientific data supporting its anti-aging ability. Vitamin C is indeed a worthy addition to an anti-aging skin-care regimen".
As you know, Vitamin C can be found in citrus fruits like oranges and grapefruits, but you can also find it in lotions and serums.
Most people love sunlight, however, many good things come at a price: being out in the sun too much can cause sunspots and other damage. Vitamin C counteracts this by diminishing the production of extra pigmentation. It clears your face by exfoliating and unveiling new, and brighter skin.
Although ingesting Vitamin C is always recommended and healthy (Vitamin C has been proven to help guard off heart disease and some types of cancer!), if you're looking to improve your looks, the best way to go about it is by applying topical Vitamin C directly on the areas you would like to treat.
"Keep in mind that Vitamin C is a fragile compound and can easily be inactivated by incorrect manufacturing or faulty packaging so stick with dermatologist recommended formulations and enjoy the benefits of this heavy-hitter", adds Antonovich.
Try: Elizabeth Arden Skin Illuminating Brightening Night Capsules with Advanced MIx Concentrate $84. Peter Thomas Roth Camu Camu Power C x 30 Vitamin C Brightening Moisturizer $72.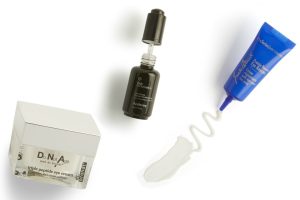 3. Peptides
There are a few different kinds of peptides, but when it comes to beauty they all serve the same purpose: to make your skin look younger.
Whether they're signaling your skin to stop breaking down collagen, or building more, peptides work best when accompanied by other anti-aging ingredients, like Retinol.
Try: Dr. Brandt Do Not Age Triple Peptide Eye Cream $82. Anthony High Performance Anti-Wrinkle Glycolic Peptide Serum $55. Jack Black Protein Booster Eye Rescue with Peptides, Antioxidants & Organic Omega-3 $40.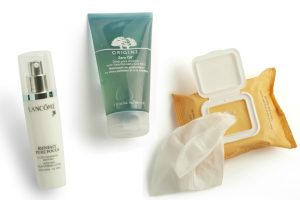 4. Salicylic Acid
Salicylic acid is an anti-inflammatory ingredient found in many acne medications that is also used in anti-aging lotions. It works by exfoliating the top layers of the skin and unclogging pores. Overtime, regular use can diminish the appearance of fine lines.
Try: Origins Zero Oil Deep Pore Cleanser with Saw Palmetto & Mint $22. Lancôme Bienfait Aqua Vital Moisturizer Lotion $49. Burt's Bees Facial Cleansing Towelettes - Peach & Willow Bark Exfoliating $6.
5. Sunscreen
OK, this is technically not an ingredient, but it's the best thing you can do for your skin at any age. "The number one best beauty secret... hands-down, is sunscreen", says Antonovich. "Not only will a good sunscreen and overall sun protection help keep skin cancers away but also help maintain beautiful skin by preventing suns spots and preserve collagen. This means a more even complexion and wrinkle-free skin. Sunscreen is the most important tool in the beauty tool-box".
For tanned skins an SPF (Sun Protection Factor) of 15 is OK, however, fairer skins need to use 30 or higher, depending on sun exposure. Make sure to slather on sunscreen on your face, your ears, your neck, chest, and even the back of your hands!
Try: Estée Lauder DayWear Advanced Multi-Protection Anti-Oxidant & UV Defense SPF 50 $42. Tarte Amazonian Clay BB Tinted Moisturizer SPF 20 $36. Clinique Even Better Dark Spot Correcting Hand Cream Broad Spectrum SPF 15 $29.50.