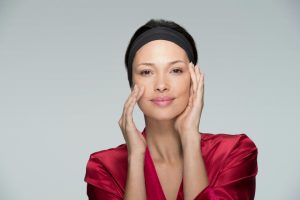 The colder weather always makes our skin drier, which is why you should be changing your products to include more moisturizers and serums to keep your skin hydrated. It's important to have a great overnight routine, but it's also important to properly prep your skin before putting on makeup to ensure a flawless application.
Below are the steps and products I like to use before I apply my winter makeup!
1. I begin my skin prep right after I shower. I slip into my robe (this one is from my Thalia Sodi Collection) and put my hair up in a hair band, so as not to get any product in it.
2. I apply a gel moisturizer with hyaluronic acid (read more about anti-aging ingredients here), like Clarins HydraQuench Cream-Gel, or if I'm prepping during the day, I use Clarins HydraQuench Cream with SPF 15. I give myself a little face massage to help with blood flow and to make sure the moisturizer really goes into my skin.
3. Afterwards, I apply MAC Fast Response Eye Cream, which has caffeine that acts immediately to make undereye circles virtually disappear. I let that, along with the moisturizer, sit on my skin for about 10 minutes before putting on my makeup.
4. In the meantime, I like to moisturize my lips. Good old petroleum jelly does the trick for very dry lips, but I also like Burt's Bees lips balms, as they're very affordable and moisturizing.
5. Lastly, I spritz myself with a lotion mist, that's both hydrating and energizing, like Origins Energy-Boosting Treatment Lotion Mist, which makes my skin feel smoother and look more radiant.