I just finished my Latina Love Tour and I loved spending time with my fans! I enjoyed every second of it! It feels like the stage is my second home, and I am very comfortable and confident on it. It took me a few tries, but now I truly take pleasure in being on stage and performing in front of thousands of people.
Sometimes people ask me what some of my secrets are to being so confident when I'm performing. Hence, I'd like to share with you some tips that can help you, whether you're giving a presentation at work or school, performing in a play, or simply putting on a show for your friends!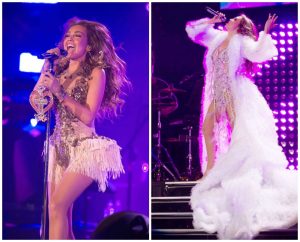 1. Watch and learn. Watch YouTube videos of performers and see how they move and act onstage, and get inspiration from the professionals.
2. Prepare. We all know practice makes perfect, so prepare, prepare, and when you're ready, prepare some more. I rehearse my shows months in advance!
3. Drink warm water. If you're speaking in public, warm water, as well as room-temperature water, are better for your vocal chords.
4. Avoid caffeine. It might make you more nervous! Try instead caffeine-free tea for a healthier alternative.
5. Breathe. Before you go onstage, take a moment to breathe. If you have time in the morning, set aside five minutes to meditate and visualize your performance going well.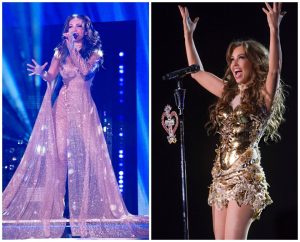 6. Make eye contact. This is a great way to connect with your audience. Look at them one by one, and feed off of their energy. I love seeing your smiling faces when you come to my shows!
7. Watch you body language. What you don't say is as important as what you do say. Don't cross your arms, or tap your feet or fingers nervously. Smile, stand up straight, and try to have fun! People will love your confidence. And if you don't have it, don't let people know. Fake it 'til you make it!
8. Use props. A water bottle is a great prop. Sometimes when performing I need a minute to collect myself, because I'm so excited, so I take a sip from the water bottle. That also gives me a chance to take a deep breath and gather my energy to get back to my fans.
9. Get excited. Excitement is contagious; if you act excited to be in front of your audience they will get excited to see you too!
10. Give thanks. Thank your audience for coming to see you perform, and feel genuinely thankful for how they made you feel.
I'm so grateful for all my wonderful fans who came from all over the world to the Latina Love Tour to see me perform. I'm very humbled to have so many beautiful people follow me, and I worked very hard to put on an amazing show for you. I hope you enjoyed it as much as I did!
Thank you all, and we'll see you on the next tour!