It's my favorite time of the year! Besides spending time with loved ones, we get to dress up to the nines to showcase our style in a way we're not usually able to throughout the year. This is your moment to have fun with makeup and try something new! Follow your regular makeup application, but jazz it up a little. You can try a bold lip, or a fun eye look, like this one here.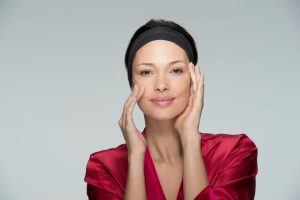 Begin by prepping your skin and moisturizing it to ensure a smooth application. Then follow up with your face and eyelid primer.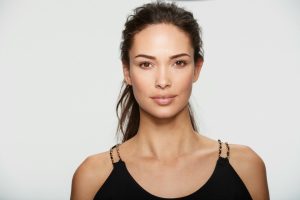 Next step is to apply foundation: apply liquid foundation everywhere (even the eyelids!) with a brush to even it out. Then, apply a thin layer of concealer over the spots that need extra help, like blemishes. Use undereye concealer after doing your eye makeup so you can clean up anything that falls underneath.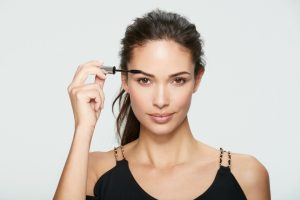 Next, it's time to do the eyebrows. Eyebrows are super important because they frame your whole face. For photoshoots or special occasions (like a holiday party!) you ought to try eyebrow gel (try Anastasia Beverly Hills Brow Gel in clear), which will give hair definition and shape. Then, pick an eyebrow pencil one color lighter than your natural hair, and fill in your eyebrows. This time we used Anastasia Beverly Hills Brow Wiz in Chocolate. Never use black eyebrow crayon, as black is very harsh on the face.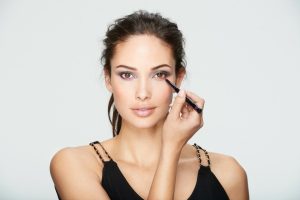 For this look, we then used MAC Pro Longwear Paint Pot in Clearwater cream shadow to give the eye a base and a bit of color and hold the rest of the eyeshadow in place. After that, we applied three different metallic colors to create this fun holiday makeup look. Make sure to blend them well with each other so it looks like they are "melting" together.
I'm currently obsessed with MAC Spellbinder Eye Shadow. We started off with the Mysterious Influence shade on the inside of the eye and worked outwards with Blue Karma, followed with Gravity's Pull on the outside.
Don't be afraid to layer eye shadows, because you will get an interesting look. Just don't forget to blend well!
Next, we lined the upper and lower lid with Dior Diorshow Pro Liner Bevel-Tip Eye Liner in Pro Magenta. If you don't have a liner that matches the eyeshadow, you can instead just use the darker shadow you used earlier.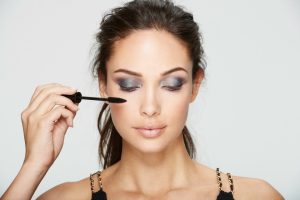 Then, apply a couple of coats of your favorite mascara. This time we used Dior Diorshow Lash-Extension Effect Buildable Volume Mascara in 90 Black. For a more dramatic effect you can use false eyelashes- learn how to by watching me apply them in this video!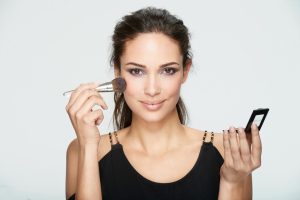 Up next it's blush time! This one is Bobbi Brown Blush in Pink Coral.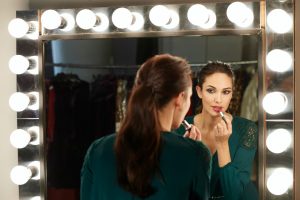 Finish up the look with your favorite lipstick, and happy holidays!