Thalía shared on her Instagram account the Christmas gifts she received from her husband Tommy Mottola. She received a designer handbag once owned by Marilyn Monroe and also a signed photograph of the iconic star. The Mexican singer's husband bought the items from Julien's Auctions' The Marilyn Monroe Auction that was held on November 17-19, 2016 in Los Angeles, California.
According to the press release published after the event, Tommy Mottola and his friend fashion designer Tommy Hilfiger participated in the auction:
Fashion icon Tommy Hilfiger won the Marilyn Monroe Pandora minaudière evening bag at auction in an unintentional bidding war with his friend Tommy Mottola who wanted it for his wife Thalía. The embellished citrine crystal floret minaudière includes Marilyn's lipstick, unused cigarettes, comb and a heavily used cotton powder make up buffer with mirror and two Mercury dimes dated 1943 and 1945. The two Tommy's battled it out, with Hilfiger becoming the victor at $187,500. He bought it as a birthday gift for his wife Dee Ocleppo who designs luxury handbags.
In the end, Mottola won the 1950s chocolate brown alligator I. Magnin & Co. handbag for $37,500 which also includes the faux tortoise plastic comb, matching leather covered gold metal flint lighter, matching lipstick case containing an unused stick of bright red lipstick, and a matching leather powder compact with mirror. The item was from "Marilyn Monroe Property From the Estate of Lee Strasberg" catalog. Thalía also have a signed photograph of Monroe which her husband won for $11,250 which is from "Déjà vu Property from the Life and Career of Marilyn Monroe" catalog.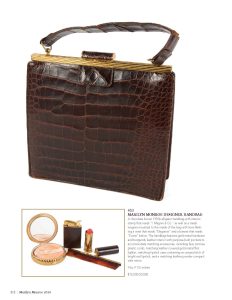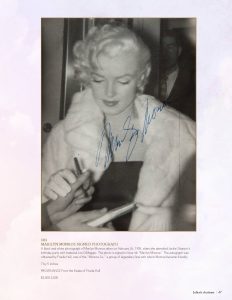 Thalía captioned: Only when you are a fan you can understand the degree of insanity! Tommy gave me this Christmas a bag of the unique and unmatched @marilynmonroe that was auctioned this Christmas. It contains a personal comb and a lipstick of those emblematic red lips plus a compact to tint that timeless face. Being a fan is a privilege that only a few know. ;-) #amoserfan #forever #marilynmonroe
Thalía captioned: And as a #fan, having an autographed photo is a treasure!! @marilynmonroe in her inner universe, signing for an admirer, while #joedimaggio waits for her. #tesoromio #fan #marilynmonroe #4ever #regalodenavidad #luckyme