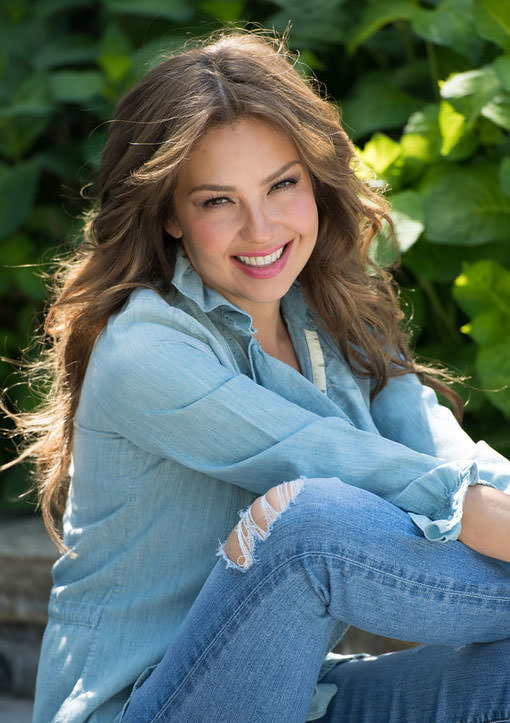 Mexican superstar Thalía has been accused of making diva-like demands to get out of a big-money fashion contract.
The singer — who is married to music mogul Tommy Mottola — is being sued over a 20-year deal with EDF Brands to license products in her native country. The company claims, in a lawsuit filed in Manhattan, that she blew off promotional duties and insisted on a whopping $120,000 travel budget beyond the bounds of their contract.
For a two-day trip for a product launch, Thalía's demands are said to have included a private plane from New York to Mexico City for $65,000, hotel rooms for $15,000, security for $25,000, hair and makeup for $6,000 and a stylist for $10,000 — which sounds straight out of the playbook of Mottola's ex-wife Mariah Carey.
"Within months of entering into the agreement... Thalía demands a $65,000 plane to fly her to Mexico and [then] threatens through her attorneys to terminate the agreement", EDF's attorney, Andrew R. Goldenberg, told Page Six.
Thalia Sodi collection in Price Shoes Mexico
Thalia Sodi collection in Price Shoes Mexico catalogs
Thalia Sodi home and bath collections in Intima Hogar
Thalía, 45, received a $150,000 advance and stood to make tens of millions of dollars had she "honored her promises to promote her brand" at events and through social media, Goldenberg said. He also believes Thalía "is throwing up roadblocks as a pretext to get a better deal, but she is hurting herself by making it more difficult to promote her".
But the songstress' camp insists that she didn't skirt any obligations and that it was EDF that breached the agreement.
Their counterclaim alleges Thalía-branded fashions being sold did not receive her final approval, as required. They also argue that the goods weren't up to snuff quality-wise, resulting in damage to "the high standards of style and quality associated with Thalía".
Thalía's attorney, Brad D. Rose, elaborated to Page Six: "[N]o product or product category could be sold, and no use of Thalía's name or image in advertising and promotional materials could occur, unless and until the licensee received the requisite approvals from licensor".
Further, Thalía's team claims that some images used in a catalog were "manipulated" without her say-so: "EDF went so far as to crudely superimpose a headshot of Thalía on the body of a different model with a discernibly different skin tone", their legal papers read. Not surprisingly, EDF's attorney tells us this allegation lacks merit. He also says Thalía "complains that the product does not meet the quality standard she wants. But her fans in Mexico don't agree. Sales were strong from the outset".
Both parties are seeking unspecified money damages.
Mottola, Thalía's husband and business partner, is also named as a defendant in the lawsuit.
Meanwhile, in the US, Thalía sells a line of clothing and shoes at Macy's.