Thalía receives the 2017 Latino Impact Summit Award at the UN Headquarters in New York City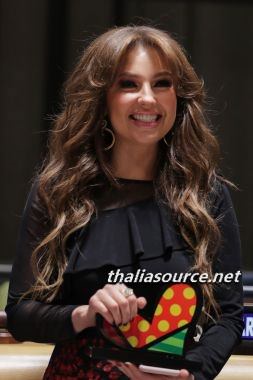 view more images from this album
UHQ, HQ
The Latino Impact Summit, organized by the PVBLIC and Ismael Cala foundations, is took place on November 30 and December 1, 2017 at the United Nations in New York City. The event discusses alliances for achieving progress in Latin America that are centered on the UN's Sustainable Development Goals, and is one of the few forums held in Spanish at UN headquarters.
Mexican singer, actress and entrepreneur Thalía receives the 2017 Latin Impact Summit Award, in recognition of her humanitarian work in support of children, women, and health campaigns throughout her 35+ year career.
Other personalities from the region who were also honored include:
Celia Daniel de Mizrahi - Latino Philanthropist of the Year Award
Facundo Garreton - Millennium Latino Leader of the Year Award
Bettina Bulgheroni - Latin American Social Leadership Award
Palmas de Ixan - Latin American Sustainability Award
Cementos Progreso - Business Product Innovation Award
Marcos Galperín - Latin American Businessman of the Year Award
Carlos Gutiérrez - Latin American Excellence Award
The summit brings together dozens of leaders from different sectors in search of new opportunities and solutions for the region. Among this year's attendees are Angélica Fuentes, President of the Angélica Fuentes Foundation; Marcos Galperín, Founder of Mercado Libre; Raúl de Molina, Host of the El Gordo and La Flaca TV show; Carlos Bremer, President of Value Grupo Financiero; Margarita Herdocia, President of Génesis Desarrolladores; and Estrella Flores, CEO of Grupo Montaigne.
"Hosting the Latino Impact Summit is a clear manifestation of our commitment to create awareness in Latin America in view of the challenges the world is facing and our potential to achieve change. Through the new agenda, the 193 participating countries and the UN can make a greater impact by using our combined resources and connecting with each other through media and advanced technology," said Sergio Fernández de Córdova, President of the PVBLIC Foundation.
Ismael Cala, President of the Ismael Cala Foundation, added: "With three root problems on our shoulders −selfishness, greed, and apathy−, the world is torn between poverty, climate change, social inequality and the poor quality of education. Let's call upon leaders in all areas to promote life and peace, in order to guarantee a better future for new generations."
The 17 Sustainable Development Goals are a universal call for action to end poverty, protect the planet and ensure that all people enjoy peace and prosperity.