In December of 2013, Mexican singer Thalía was recognized with a star on the Hollywood Walk of Fame. From that day her name was immortalized in Californian territory. I remember that day, the Mexican artist lived in this city in one of the most emotional moments of her entire career. Her face says it all.
And although her mother, Yolanda Miranda, could not see her fulfilling that dream, since she died in 2011, Tommy Mottola's wife thanked God for having fulfilled the wish of her mother, who initiated the whole process to have a star on the most famous boulevard in the world.
Since then, we have not publicly seen Thalía in this city where she lived a few years before marrying the love of her life and moving to New York. However, Thalía confesses that this is the favorite city of her children, the sweet Sabrina Sakaë and the handsome Matthew. "I love Los Angeles, if it just me I would continue living there, but you know, love brought me to the 'City of Skyscrapers', but we go a lot, we work and do many things there. My children love going to Los Angeles, obviously for the fun studios and for Disney, also because that city brings me many good memories," said Thalía in full emotion via telephone from the Big Apple.
But what most has excited her at this time in her career, is the release of her new single titled No Me Acuerdo, a subject with very catchy chords in which the artist fuses her characteristic pop with the urban genre. And the most interesting thing is that she has the collaboration of the sensual Natti Natasha. In direct connection with Hoy Los Ángeles, Thalía shared details of this single which is just a link to a huge box of surprises that after June 1 will be unveiling for fans on all social networks and digital platforms.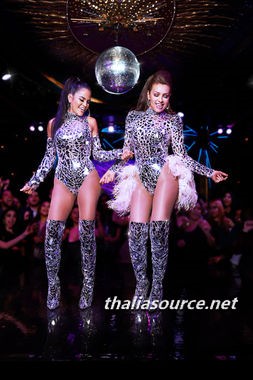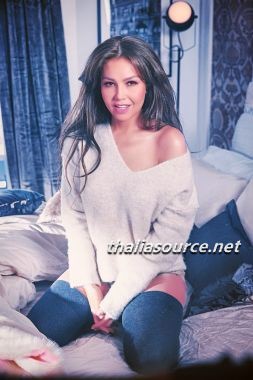 The truth is that 'I don't remember' [No Me Acuerdo] the name of the single. How is it called?
(Laughs) It is No Me Acuerdo the name. It's a wonderful subject, it's very global, it's something collective. Whoever tells you that they have not experienced a memory lapse or a blackout, lies. At some point we have all experienced it or we have created that situation that 'the truth is I do not remember'. In the psychology of human beings these mental gaps pass. And that song has that mischief, that story of a girl who goes with her friends to party and suddenly gives her that 'blackout' and does not remember anything. And really, it has that very organic complicity that occurred in the meeting with Natti Natasha and the truth, it was super intense, fun and with a lot of rhythm.
You have already made collaborations with artists like Romeo, Becky G, Prince Royce and Maluma, but now you do it with a girl who is very attached to social networks like Natti Natasha, how did this idea come about?
When this song came to my hands I recorded it that same day in my studio. I fell in love with the theme and the more I listened to everything on the speakers, the more it came to mind the image of a strong, intense woman, wanting to say things as they are, to sing along with me and the mental photography that was formed in me, was Natti. And since I am stubborn, the next day I contacted her, I sent her the song and she loved it. And when he recorded it, I still liked it. And it was not until we made the video in Manhattan that we met.
How was that meeting?
I do not know if Tommy [moment] happened to you, but when you meet someone with whom you start a sentence and the other ends it or you say a word at the same time or who have a complicity of a double meaning that no one else with the looks, you know this is how it happened to me and her. And that feels and vibrates in the song, it breathes in the video and that's why I tell you that it was super explosive.
What can you tell us about that explosive video?
It is visually appealing, super sexy, super intense, strong, but fun. I have that duality that I can sing those more romantic songs, more like I can also sing the most irreverent, festive songs. And that partnership can be enjoyed in the video. And this first of June the video is out for people to share, to give likes (I like it) to download it and I think that this is also a gift that the public gives to us, that support and above all through all those digital platforms that are fantastic and they are many.
After recording that song, I understand that Natti Natasha told you in a chat that she dreams about the song. In your case, how has that fusion with the urban genre and the pop that you do?
Look, all the time we are chatting, all the time we are in communication and I am very clear that I have to be very loyal to myself, to my sound, to my spine that is the content of my songs. The harmonies that I make in my compositions, the style in which I play my music. The sounds that I have searched for so many decades, but I also like to merge them with things that appeal to me at that moment. If you see all my discography, I have had such interesting, so incredible fusions, in all the musical unions and now that these urban influences are there, I love being able to contribute that urban pop in the musical atmosphere.
You have a year working on this album with people from Colombia, Mexico, Spain, Cuba and with Servando Primera, who is Venezuelan, whom we saw dancing with you on social networks.
(Laughs) Yes I love him... They are so many people, so many beloved, magical and so wonderful artists that soon we will be unwrapping this gift, because I believe that if you make a mental image at this moment it is as if I gave you in the hands a gigantic gift with a big bow. Right now we are just taking off the bow that is the song No Me Acuerdo and now you have to open that gift and there you will find all those surprises and little by little you will discover these songs played by me and where there are also those romantic ballads that were asked so much by my people, those love songs and those solos that will be seen at the end of the year when it is the official release of the album.
You also have the Panamanian [songwriter] Erika Ender that after her Despacito now you brought her to tear that romantic side that she also has. How was that?
Look, I took a short side that you can not imagine. That day we were in my studio, laughing, sharing, having a good time and we brought out an impressive, moving romantic theme that squeezes your soul and bristles your skin. They are such powerful themes, lyrically speaking, that all they need is a piano and that is how the song came about, plus the growth of a beautiful friendship. And that has this album, which was made here at home and the singer-songwriters and authors who came here only gave smiles. And every time I remember those days of work, burst of laughter, laughs, stories, bohemian, that you grabbed the guitar and started singing trova, we talked about life and then we went to work. It has embodied this album experiences, love, life and joy.
In the case of the song No Me Acuerdo, it comes at a time when some labels the urban genre as very macho, but now you come with a words that tells the gentlemen 'if that happened, I do not remember' It's like an answer, right?
We are in a stage where I feel like the woman is more united than ever, that she is stronger, more whole and musically speaking is not the exception and this is the same. I am really telling you that 'I do not remember' and if you do not understand that concept that I am considering turn around, jump through that door and continue your life because that's the way I am. I like myself, I love myself and I like myself and I respect myself and I will not let anyone make me feel bad, that's the important thing.
Precisely this comes when women are raising their voices with movements like #MeToo and #TimesUp. What do you think of everything that is happening?
It's wonderful and interesting, it's a collective feminine strength and I feel that empowerment, that strengthening of walking shoulder to shoulder with one another and feeling that in the strength of the woman right now.
On the other hand, we see that you are the producer, along with Tommy Mottola, producers of Summer, the Broadway musical about the life of Donna Summer. How has the public received it?
Very excited because we have been working on this project for almost five years, because since we put the idea together and gathered the groups of people to collaborate with us, to make this idea grow [...] it really was an impressive process (to have it) in a theater on Broadway and to have the fortune that this show has pleased the public is a gift.
Finally, we are now a few days away from the World Cup. This year Italy and the United States did not go, the nationalities of your husband Tommy Mottola. Could it be that this year Mexico is going with you?
Because he always goes to Mexico, he has no other choice. In addition he loves my country and when he can, he suddenly puts mariachi at full volume, he loves Mexican salsa and he tries to start a conversation in Spanish, he's very much in love with Mexico, with the beaches, with his people... so he has no other choice.