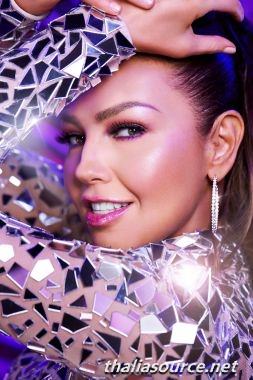 MIAMI – Mexican pop singer Thalía will launch her latest reggaeton single No me acuerdo (I Don't Remember) this week as the starting point of her 14th studio album, which features a mix of styles with songs that defend women's right to be "human, real and roguish."
"On this album, I've received many gifts both artistically and personally and that's how I wanted to deliver it to the public," Thalía told EFE in an interview.
The singer described what will be her fourteenth studio album that will be released in fall with songs of "different genres" and "much heart".
Recorded in the studio that she has built in her house in New York Connecticut, the still untitled production contains collaborations with renowned artists from Argentina, Spain, Colombia, Cuba, Mexico and the Dominican Republic.
"I don't want to ruin the surprise," she said, revealing only the name of Dominican singer Natti Natasha, who collaborated on the single and who she considers to be "a member of my tribe."
The song, which will be published this Friday (June 1), will be accompanied by a sexy video filmed in New York.
No me acuerdo is a first-person account of a woman who challenges her romantic partner regarding the events of a drunken night out with her friends and "and it gives you a blackout and you don't remember anything," Thalía revealed.
"It has happened to everyone and whoever says they haven't gone through that, is a liar," said the 46-year-old pop star, adding that the goal is for women to relate to the story and give themselves permission to say "I had a good time without you. If you don't like it, you can leave."
"I want only you, for me there is only one, but if it makes you happy to know that I was with another, we are going to say yes, but I do not remember, and if I do not remember, it did not happen," as the lyrics says.
For the artist, the song, as well as other that come on her album, claim the right to "coquetry and audacity" of women.
Although she has the percussion rhythm of the reggaeton and the video makes a "nod" to the trap, Thalía ruled out having recorded it to embrace the urban music fashion.
The dance music heard today "is an evolution of pop," said the singer, who said that the important thing is that an artist "does not lose its essence" experimenting with the genres that mark the market in general.
Although on her previous album Latina she had played urban music on her Desde esa noche collaboration with the Colombian Maluma, the typical instruments of the band's own music from northern Mexico and the arrangements made it mainly a pop piece.
Also her pop collaboration Como tú no hay dos with Becky G. on the album Amore mío in 2014. In 2012, she made a bachata version of Te perdiste mi amor, her duet with Prince Royce on her album Habítame Siempre.
Her only previous reggaeton was a version that she did herself in 2017 and she only released it on her YouTube the song Quinceañera, which in 1987 accompanied the soap opera of the same name and she's part of the cast.
Thalía assures that her sound is defined by her voice and the modulations she makes with it. "I have experimented with all kinds of genres throughout my career, but always respecting who I am," she said.
That was the heading of her next album that she described as the "most relaxed" she has done, because when she did it at home, the relationship with the musicians and singer-songwriters she worked with became "a collaboration between friends", where there was "guitars, personal stories and lots of laughter".
She decided to released No me acuerdo as the first single because she is convinced that before there are "so much bad news" people want to dance [to forget about them], but she indicated that her album is also based on ballads, which is a genre that is back.
"I feel a lot of strength behind the ballads," she said and acknowledged that she loves them. "I'm that one too, the one about the love song ballads that every time ask me more, the romanticism is coming back and it's very 'cool'".