The singer affirms that the generations that do not know her encourage her to explore new ways and to refresh herself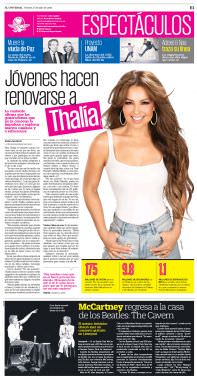 For Thalía, it is quite common to go viral, be it for her photos, her soap opera scenes, her videos or for participating in the challenges that circulate in social networks.
The singer has managed to adapt to new technologies and make them part of her day to day.
"It's one thing that has united me with these people, with the fan clubs, with the people that maybe do not even know who I am, but what catches their attention is the things I do, the things I say, the funny videos... I like to have fun in life and I think that is what makes it, suddenly, some of the things that I upload become viral, because I like to have fun, life goes very fast and you have to have fun", she said via telephone.
With more than three decades as a singer and actress, Thalía confesses that she finds it exciting of the idea that new generations do not know her.
"It's something super attractive, that idea is like a magnet for me because then it makes me try to reinvent myself and makes me understand and review where the musical paths go, the social and political paths.
"I love understanding where society, people and the collective are moving. I have always been like as a medium to investigate, to see what is coming musically, what is the tendency that the kids are following, who are the composers and singers... I like to approach these people. That refreshes you and keeps you at the bottom of the canyon. Besides that I do not stop doing things, I am very hyperactive".
It is so, that she has no embarrassment or fear of being part of genres such as urban. The musical style is the trend in the radio charts, music downloads and most viewed videos.
With the song No me acuerdo, Thalía adds her third reggaeton-style song. Without prejudice to the genre, the actress also says she understands why other artists refuse to be part of the new pop.
"Many people lose their identity by doing or trying to be a trend, and for me the most important thing is to follow my backbone, to be faithful to my style. When I compose, I do it with my harmony styles, where I feel that the choir has to enter, or where the verse has to enter. When I play my songs, I sing them as I am, it does not change my way of singing to be the same as others. I like curiosity, I like to mix my style, which is very poppy, with bachata, like when I did it with Romeo Santos or Prince Royce, or when I did hip hop, or jazz with Tony Bennett and Michael Bublé, or as now with what I did with Malumna. But it's still me."
No me aucerdo, in which she did as a duet with Natti Natasha, it can be part of the urban genre phenomenon, with all its criticisms. The video currently has more than 175 million views on YouTube.
"This song speaks of a strong woman, who defends her point of view, who is sure of her being. I am like that, but if it bothers you, turn around and there is the door, and good luck in your life. She is a strong and free woman, which is also a reflection of a strong movement that is happening in this music, where women are coming together and making these kinds of suggestions", she explains.
Several lives in one. In the tendencies there are also the biographical series of famous people. Thalía Sodi says she does not rule out making one about her life. But she would need a great team of screenwriters.
"I feel that I have lived five different lives, they are so many things that have happened to me, that it would have to be a long and fine adaptation work, but I do not rule it out."
Neither does she reject the performing, she would like to return to a set, but she points out that the project would have to be very innovative to have it.
"There are many things that I do not know how to do, but I invent them. My mom used to say that if I did not know how to do it, then I would invent it, I love exploring. - Thalía, singer and actress