Exclusive from New York
THALÍA
In a sexy and fun photoshoot, the Latin pop queen tells us about her children, her relationship with success and gives us the scoop of her new album
Some call her the queen of soap operas, others the queen of Latin Pop... simply Thalía is one of the most complete artists that our country has, bearer of one of the stars of walk of fame in Hollywood. With the excuse of her new record material, we talked from New York with the singer, who undoubtedly continues to maintain that spark that characterizes her.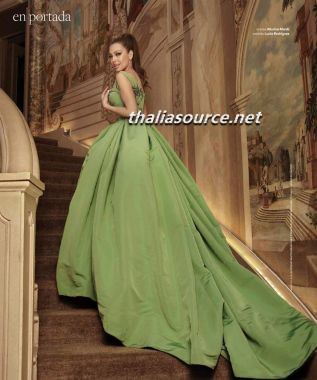 By Mari Tere Lelo de Larrea from New York
Photos Uriel Santana. Fashion Coordination Karen Fentanes
Location The Pierre NY, A Taj Hotel
www.thepierreny.com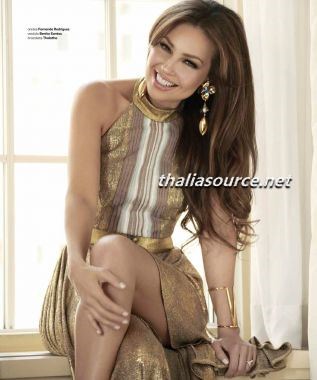 Earrings Fernando Rodríguez
Dress Benito Santos
Bracelet Thalatha Multifaceted singer, talented actress and successful businesswoman... Ariadna Thalía Sodi Miranda, better known as Thalía, started her music career in the early 80's in a children's group called Din-Din, without imagining that years later she would be considered one of the most beloved Mexican artists and the most successful in the industry.
Since then the triumphs have not stopped, because in 1986 she joined the band Timbiriche, where she spent more than three years recording three albums with the group. Years later, and after an arduous preparation, she released her first solo album with an eponymous title; in 1991 she released Mundo de cristal and a year later Love.
Later, the singer signed a contract with record company EMI, with which she released 10 studio albums. In 2009 she joined Sony Music where she got a diamond album and triple certification of her album Primera Fila, that sold 500 thousand copies in Mexico. Thalía is considered one of the Latin artists with the highest sales, since throughout her career, she has placed almost 50 million albums since her solo debut.
As if that were not enough, she has participated in seven melodramas that have been seen by more than two billion people around the world, which is why she is also known as "The queen of telenovelas". In addition, in her career as an actress she ventured into the theater and made two films. Producer, writer, designer, host and speaker, are the other professions that she has performed successfully.
In 1999 she met Tommy Mottola, her current husband, on a blind date. "Emilio Estefan arranged a dinner for us in New York where I was finishing a movie, it was my last free night, so I accepted, and the moment we saw each other we were left with (Cupid's) arrows, and from that moment we never separated," Thalía said.
One year later, the businessman and the singer got married in the St. Patrick's Cathedral in New York, at a spectacular wedding attended by personalities of the likes of Robert de Niro, Julio Iglesias, Michael Jackson and Jennifer Lopez, among others.
On October 7, 2007, their first-born was born, who was named Sabrina Sakaë, and on June 25, 2011 their second son, Matthew Alejandro, arrived. Almost 20 years later, Thalía has one of the most stable sentimental relationships in the media.
The favorite Mexican star is back with a spectacular musical production: she also reveals her secrets to maintain her artistic career at the top for so many decades and tells us about her role as wife and mother.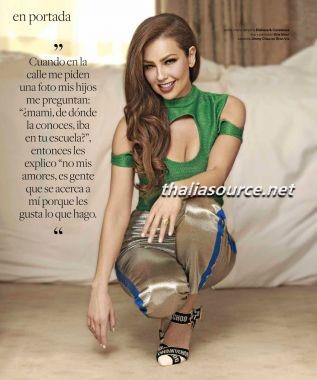 When they ask me for a picture in the street my children ask me: "mommy, where did you know her, they went to your school?", Then I explain "not my loves, they are people who come to me because they like what I do.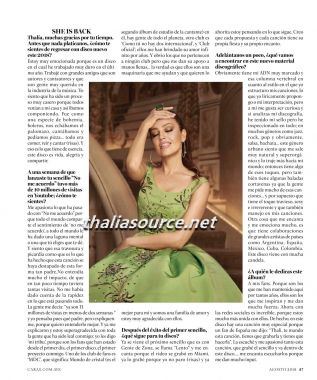 SHE IS BACK
Thalía, thank you very much for your time. First of all tell us, how do you feel about returning with a new album this 2018?
I am very excited because it is an album that I have worked very hard in the last year. I worked with great friends who are authors and singer-songwriters and who are very dear people in the music industry. I feel that it has been a very homemade process because everyone came to my house and that's how we were composing. It was like a kind of bohemian, boleros, jam session, we sang and we asked for pizza... it was all eating, laughing and singing (laughs). And that's what it has of essence, this album is life, joy and sharing.
A week after you released your single No me acuerdo it had more than 10 million hits on YouTube; how you feel?
I'm passionate about what happened with No me acuerdo because everyone shares the feeling of 'I do not remember', everyone has given a mental gap or one that was given to you that you choose. And I feel that mischief and that naughtiness like that is what has made this song uncovered in this wonderful way. I did not understand the impact, that in so little time I had so many visits. I had not realized how quickly everything is happening. People told me: "There are already 15 million views in less than two weeks" and I was thinking [it was] cool, but explain it to me, because I want to understand it better. And they explained to me and I am very grateful to all the people who have been loyal to me; I call them 'my tribe', because they are the fans that have been from the first day, the first album, the first project with me. One of the fan club is 'MDC', which means Mundo de Cristal (it's the singer's second studio album), there are people from all over the planet, another club is 'Como tu no hay dos internacional', and 'Official Club'; They have given me their infinite love for years. And obviously those who do not belong to any club but who give me their full hands support... the truth is that they are a machine that help me and want the best for me and we are a family of love and I am very grateful to them.
After the success of the first single, what's next for your album?
Now comes the next single that is with Gente de Zona, it's called Lento and I love it because the video was recorded in Miami, I recorded it because I do not stop (laughs) and now I'm thinking about what's next. I think that each proposal and each song has its own party and its own charm.
Tell us a little, what are we going to find in this new album?
Obviously it has my very marked DNA and that backbone in terms of the style in which I structure my songs, what I lyrically propose or my interpretation, but I like to be curious and if you analyze my discography, I have had my stamp but I have inspected in everything; in many genres like jazz, rock, pop and obviously, salsa, bachata... this urban genre feels that I get very natural and super organic and brought it closer to my world; then it has some of those touches, but they also have some short ballads since people ask me a lot of those songs... and of course they have the naughty, sexy and irreverent touch and that I also use in my songs. Another thing that I love and that excites me a lot, is that it has collaborations with great artists from countries like Argentina, Spain, Mexico, Cuba, Colombia. This album comes on a lot of fire.
Who do you dedicate this album to?
To my fans. Because they are the ones who have kept me here for so many years, they are the ones who inspire me and give me a lot of strength. Now with social networks it's amazing, because I'm much closer to them. In fact, on this album there is a very special song because a fan from Spain told me: "Thali, I'm sending you this song, you have to record it and you have to do it". I listened to the single and it goes inside this album... I love listening to them because they give me a lot of input.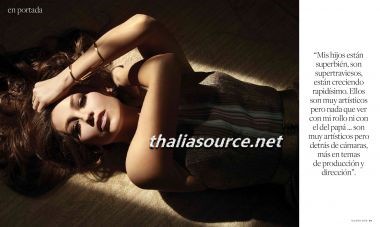 My children are superb, they are super playful ones, they are growing rapidly. They are very artistic but nothing to do with me nor with their father... they are very artistic but behind the scenes, more in terms of production and direction.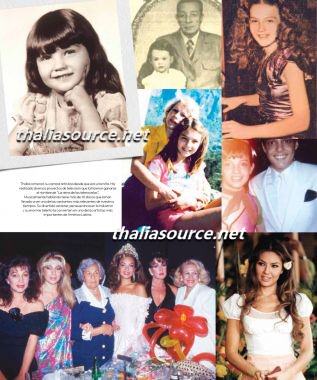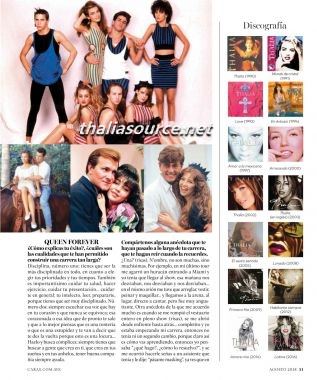 QUEEN FOREVER
How do you explain your success? What are the qualities that have allowed you to build such a long career?
Discipline, number one; You have to be the most disciplined in everything, in terms of choosing your priorities and your times. It is also important to take care of your health, exercise, take care of how you present yourself... take care of yourself in general; your intellect, read, prepare, because you have to be very disciplined. Number two: always listen to that voice that is in your heart and that is not wrong; that hunch or that idea that suddenly comes out and that maybe you think it's foolish or that it's stupid and they're going to tell you to turn around because this is crazy... Do it and look for accomplices; you always have to look for people who believe in you, who believe in your dreams and your desires, having good company always helps.
Share us an anecdote that you have gone throughout your career, that make you laugh when you remember it.
One? (laughs) No way, they are not many, but very many. For example, on my last tour, a hurricane caught me in Miami and I had to arrive at the show, that morning they diverted us, diverted us and diverted us... in the same plane I had to fix, dress, comb and make up... and we came to the arena, to the place, directly to sing, but it was very distressing. Another anecdote of which I remember a lot is when I broke the whole wardrobe in the middle of the show (laughs), it opened from the front to the back... completely and I was starting my career, so I did not have a second change, because Of course, this is how you are learning, so I thought "what do I do?, how do I resolve it?", and it occurred to me to make a sign to an assistant that I had and I said: "pass me masking", you see that in Mexico everything solves with masking tape (laughs), and I became like a masking thong and so the show continues... but there are so many memories and so many things that have happened to me...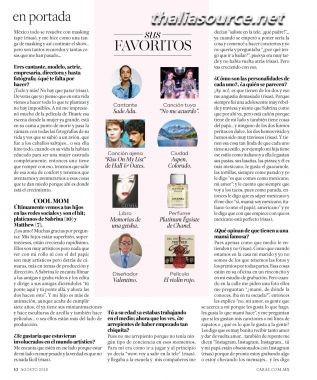 You are a singer, model, actress, businesswoman, director and even a photographer; What do you still have to do?
Everything and more! There is no stopping (laughs). Really, I think that in this life you come to do everything you plan and there are no impossible. I was very impressed by the movie of Titanic that scene where the big woman is in her bed about to die and passes the camera with all the photographs of her life and you see that she rode an airplane, then on the wild horses... that is, she did everything, when in her life they had educated her to be a completely castrated woman, then one has to break with that, we have to leave that comfort zone and we have to winnow and venture to those things that scare you because that's where the growth is.
COOL MOM
We see your children lately on social networks and they are hit; talk about Sabrina (10) and Matthew (7)
I love them! Thank you so much for asking. My children are superb, they are super playful ones, they are growing rapidly. They are very artistic but nothing to do with me nor with their father... they are very artistic but behind the scenes, more in terms of production and direction. Sabrina loves to film friends and records videos and edits them and directs her friends telling them "you put yourself here and you stand there, and now you both do this". And my son is more animated, although he has just turned seven, he already has his mini-animations and makes clay sculptures and also makes movies... that is, they are more on the production side.
Would you like them to be involved in the artistic world?
I love that they are on that side because being on my side is very heavy and the truth is that it is not easy (laughs).
You at their age were already working in the media; Now that you see them, do you regret having started so young?
Well, I do not regret it because I did not have any kind of conscience in those moments. For me it was like going to play and at first I said "wow, I'm going to go on TV" (laughs), and I came to school and my classmates told me "you went on TV, cool!"... when it started to get serious and started doing concerts and I did not want to and asked "why do I have to go dancing?", because it was too late and there was no going back (laughs). But you are growing with that.
How are the personalities of each one? Who are they like?
Oh, no, it's that they have both and that anguishes me too much (laughs). Because I was always a very rebellious and naughty teenager and I feel that Sabrina goes around like that, but she is a cannon because she has my side and she also has things about her father... and neither of us was sweet, we both lived and we have been very naughty (laughs). And they have that nice thing that everyone has their style, for example, my daughter has that style as an Italian and she likes her pasta, her lasagnas, the pizzas; and he is more Mexican, he likes the guacamole, the tortillas, he always eats and I say "you eat like a Mexican, my love"; and I tell him that whenever I saw the tacos, as a stop, then I tell him that he is super Mexican and he says "yes, mom, I'm Mexican, Italian (like dad), American" and I tell him when he starts with that he's Mexican he's perfect (laughs).
What do they think about having a famous mom?
Well they just like half understand it and not (laughs). Like when we are in the house my husband and I are not the ones who have the photos and the prizes everywhere. Those things are in our office in a corner and in my recording studio. But when they ask me for a picture in the street my children ask me: "mommy, where did you know her, they went to your school?", Then I explain "not my loves, they are people who come to me because they like what I do, they like what Mommy does", and they ask me if they like my songs or my shoe line or what do people like? I tell them that it is very nice to receive so much love and give back love... they also suddenly tell me "Instagram, Instagram, Instagram... you and dad are obsessed with Instagram (laughs) because suddenly I'm recording something or I'm checking the messages... and I tell them my love, all those people who hug me on the street, also want to share bits with me", then they understand it better and they just tell me "that's cool, it's cool", and little by little they become more familiar.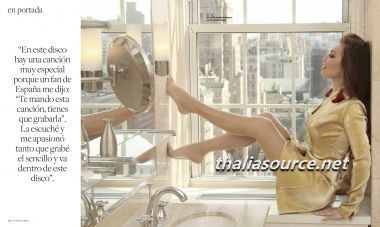 On this album there is a very special song because a fan from Spain told me: "I'm sending you this song, you have to record it". I listened to the single and it goes inside this album.
We have to leave the comfort zone and venture to those things that are scary, because that's where the growth is.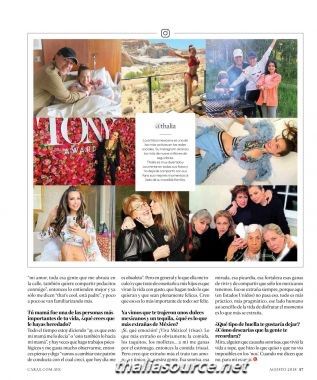 Your mom was one of the most important people in your life, what do you think you inherited?
All the time I'm saying "oh, this is what my mom told me" or "this was also my mom", and sometimes I do psychological work and I like to watch myself, so I think and say "let's change this pattern of behavior with which I grew up, which today is obsolete". But in general and what she instilled in me and what I try to teach my children is that they live their lives with pleasure, that they do everything they want and that they are fully happy. I think that's the most important thing of all: to be happy.
We already saw that they brought you some Mexican sweets and a tequila, what do you miss the most about Mexico?
Yes, so exciting! Viva Mexico! (laughs). What I miss the most is obviously the food, the taquitos, the molletes... you win me by the stomach, then the food (laughs). But I think I miss the most is the loving and unique treatment of our people. That smile, that look, that mischief, that strength that desires to live and to share that only Mexicans have. That is always strange, because here (in the United States) it does not happen that everything is more practical, more pragmatic, that simple human side of life to enjoy the moment is what is I missed the most.
What kind of footprint would you like to leave? How would you want people to remember you?
Look, someone who caused smiles, who lived life to the fullest, who did what she wanted and who did not see impossible in the 'nos'. When they say no, for me it is a yes.