Thalía en Primera Fila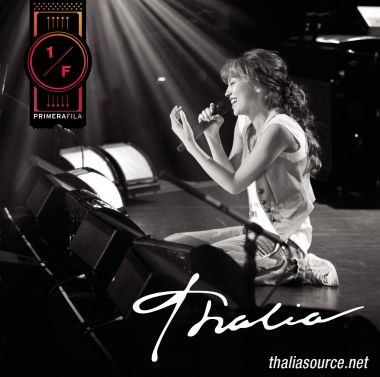 Label: Sony Music Latin
Released: December 1, 2009
Producer: Áureo Baqueiro, Tommy Mottola, Paul Forat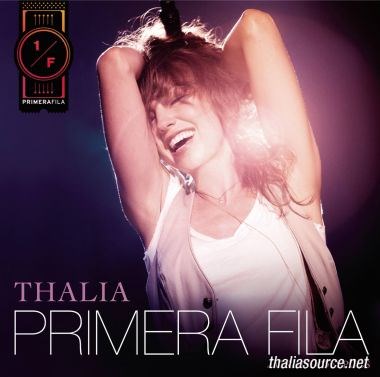 Thalía en Primera Fila... Un Año Después
Released
: September 28, 2010
Production and General Director: Paul Forat
Production and Musical Director: Aureo Baqueiro
Production and Video Director: Nahuel Lerena
Executive Producer: Tommy Mottola
Videos below includes English subtitles

TRACK LIST (Standard)
Cosiéndome el corazón
Musicalmente la mejor canción que he interpretado.
Raul Ornelas. SACM.

Enséñame a vivir
Oda a Dios y a las bendiciones de la vida, del amor y del destino.
Reyli Barba. SACM Adm by Maximo Aguirre Music Publishing.

Qué será de ti
¡La que me partió en pedazos física, mental y emocionalmente! ¡Es imprescindible!
Antonio Marcos / Mario Marcos. Universal Music MGB Songs.

Cómo
Mi recordatorio de saber que aún casi muerta tuve la fortaleza de buscar a gatas esa luz que me levantó y me trajo de vuelta.
Leonel Garcia / Thalia Sodi. Gato Frio Music Publishing Adm by Universal Music Publishing / Thaly Songs.

El próximo viernes
Rogar por un amor difícil nunca fue con tanta clase.
Espinoza Paz. ARPA Music LLC.

Medley (Entre El Mar Y Una Estrella, Piel Morena, No Me Enseñaste, Amor A La Mexicana)
Homenaje a mis F.A.N.S. (Ya sabemos lo que significa).

Entre El Mar Y Una Estrella
Marco Flores. Estefan Music Publishing Inc.
Piel Morena
Kike Santander. F.I.P.P. International.
No Me Enseñaste
Estefano. Julio Reyes. Sony/ATV Discos Publishing.
Amor A La Mexicana

Mario Pupparo. Peermusic III Ltd.

Estoy enamorado featuring Pedro Capó
Atmósfera de hadas y libélulas campaneando cancioncitas amorosas al oído. Pedro, enorme!
Donato Poveda / Alfonso Salgado. Songs of Peer Ltd. / F.I.P.P. International.

Equivocada
El despertar, el evaluar, el soltar y dejar ir...
Mario Domm / Maria Bernal. Sony/ATV Discos Music Publishing LLC/Westwood Publishing.

Brindis
La historia clara de mi vida.
Afo Verde. SADAIC Latin Copyrights, Inc.

Con la duda featuring Joan Sebastian
¡Mi día de graduación! ¡Gracias mi gran amigo!
Joan Sebastian. Juliantla Musical.

Cuando te beso
Mi alma desnuda, vibrátil y apasionada... nada más.
Juan Luis Guerra. Karen Publishing Company.

Ya lo sabía
La clara e innegable voz de la intuición.
Leonel Garcia / Thalia Sodi. Gato Frio Music Publishing Adm by Universal Music Publishing / Thaly Songs.

Mujeres
¡Porque lo que nos pidan podemos!¡Quién nos dice que no!
Ricardo Arjona. Sony/ATV Discos Music Publishing.

ACKNOWLEDGEMENTS
PAUL: ¡Jamás encontré a alguien tan perfeccionista, detallista y apasionado como yo! ¡Y eso es muuuucho! ¡Juntos somos NUCLEARES al PI por radio al cuadrado! Y así creamos magia, sueños y atmósferas nuevas en donde crear nuestra música. ¡Visionario mío, gracias por sacar lo mejor de mi, lo que ní yo sabía que tenia y tú desde siempre lo habías visto!
AUREO: ¡Encontrarnos de vuelta en un lugar estable y centrado en nuestras vidas hizo maravillas en esta producción! Te conozco de siempre y me sorprendió encontrarte en tu mejor momento creativo. ¡Inspirado, productivo y exacto como una navajita! Sharp! ¡Io, te coronaste como Napoleón con esta producción!
NAHUEL: ¡Déjaselo a un argentino para mostrar la belleza real de una persona! Tienes ojo clínico para diseccionar mi persona y mostrarme simple, honesta y sincera. Gracias a ti y a todo tu equipo.
RUBÉN MARTIN: Nadie antes capturó mi esencia... ¿Cómo lo haces? ¿En qué plano vives? ¿QUÉ eres? Un ser tan sensible que en un abrazo compartes un universo. ¡Te quiero cerca...no te suelto más!
KEVIN: Tu practicidad, tu positivismo, tu energía, tu compromiso… Thank you! Your energy, your support, your presence through the whole project made it atomic!
AFO: ¡Apenas comienzan los Brindis! ¡Prepárate! ¡Que en lugar de sangre, correrá tequila por tus venas!
RUBÉN L.: ¡A darle duro corazón! ¡Que se preparen, que aquí vamos!
PAULA: La estratega. ¡Imparable en ideas! Y meticulosa a más no poder. Gracias mi niña. ¡Lo que quieras, cuando quieras!
FERNANDO: Here we go! ¡Haremos que todos se sientan en primera fila… sentaditos ahí, cerquita de mí! Work your magic!
MARY BLACK: ¡Qué rico proyecto para nosotras solitas! ¡Tantos años y no se nos había hecho!¡Excelente! Gracias a todo tu equipo.
ALEXIS: ¿Eres videografo o sicólogo? No entendí. ¡Qué clavado a desenmascarar a los fantasmas del pasado!¡Eres calladito, pero peligroso! Hiciste que me lanzara de cabeza a los archivos de mi vida y… ouch! ¡Eso duele! ¡Gracias! Me muestras expuesta, desprotegida, pero arropada, amorosa, pero fuerte, sincera pero determinada. Me humanizaste y te agradezco que me muestres desde mis entrañas a mi gente.
CARLOS P.: ¡Reviviste la magia de los viejos tiempos… como cuando soñabamos al ver el arte de los discos de vinilo! Contaste toda una historia sin una sola palabra, para que la gente vuelva a soñar. ¡Gracias!
MÚSICOS: Gracias Titanes por subirme al cielo con cada nota en cada acorde. Gracias por empujarme a la orilla de mis limitaciones y así dejarme saber que tengo tanto que ofrecer.
TOMMY: Love of my life, my words will never express the profound love, commitment, desire and admiration that I have for you every second of my life... in good times and in bad times, in health and in sickness. Gracias mi amor for cruising the storm by my side!
SABY: Hijita, cuando entiendas que la fuerza que me sacó adelante para luchar por mi vida fuiste tú, apreciarás este material. Cada interpretación, cada respiración, cada movimiento fueron para celebrarte a ti. Tu cara me acompañó a cada instante en este proyecto que queda plasmado en una de las páginas del gran libro de mi vida. Aún en las tinieblas más densas y negras, siempre sale la luz para disiparlas. Esa luz eres tú.
DIOS: Eres tan perfecto en tus tiempos. En tus pruebas yo me perfecciono. En los desiertos en que me llevas jamás me sueltas de la mano. En las tormentas tú eres mi refugio. Gracias por afinar mi vida, por dejarme apreciar la fragilidad de mi ser y por hacerme cambiar mi enfoque. En tus manos siempre.
FANS: Quiero darle sentido a esta palabra. Familia. Amigos. Niños. Soñadores. F.A.N.S. Eso han sido todos estos años para mí. ¡Gracias amores!
CREDITS
A Production Directed and Produced by Aureo Baqueiro. Recorded and Mixed by Gustavo Borner. Mastered by Gustavo Borner. Video producer and director Nahuel Lerena. Producer and director of documental Alexis Gudiño. Subtitles translation Isabel Alvarez. Event production Mary Black. Associate Producer Joanne Oriti. Marketing Direction for Sony Music Paula Kaminsky. A&R coordination for Sony Music Isabel De Jesus. Photography Ruben Martin (rubenmartin.net). Art Elastic People (elasticpeople.com).
Arrangements Cheche Alara and Aureo Baqueiro. Metals Arrangement Ed Calle. Musical Direction Cheche Alara. Front of House and Production Manager in Los Angeles Eduardo "Mack" Mackinlay. Monitor Engineer Brent Dannen. Production Assistant in Los Angeles Jennie Cote. Music Preparation Cristina Abaroa. Contractor Shari Girdlestone. Piano, Rhodes, Accordion Cheche Alara. Acoustic and Electric Guitars Ramón Stagnaro. Drums Nate Morton. Bass Reggie Hamilton. Percussions Luis Conte. Acoustic and Electric Guitars Michael Thompson. B3 Organ, Wurlitzer, Synths Matt Rohde. Sax, Flute Ed Calle. Trombone Dana Teboe. Trumpet Jim Hacker. Choir Carlos Murguía, Leyla Hoyle, Ileana Vogel. Post-production and Mixing studio Igloo Music, Burbank CA. Post/Pro Tools editing Justin Moskevich and Nick Baxter.
For Con La Duda: Performer Joan Sebastián / Musical Prodction Joan Sebastián / Musical Co-Production Jesús Rincón / Recording Engineer Dennis Parker / Guitars Joan Sebastián / Bass Dennis Parker / Cajon Andalusian Chucho Calderón / Percussions Joan Sebastián and Chucho Calderón / Trombones and Trumpets Fernando "El Colorín" Jiménez