Thalía: I was very critical of myself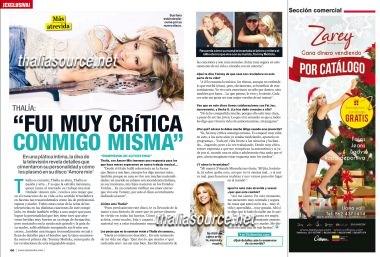 In an intimate conversation, the television diva reveals details that cemented her personality and as reflected in her album Amore Mio
Thalía is heart, Thalía is soul, Thalía is passion and art... And the Mexican star, who releases her musical work entitled Amore Mio, reveals a woman who in the course of her life has felt triumphant in such important aspects as professional, wife and mother. All these faces of the queen of soap operas in different songs on this compilation, in which also reflects a woman that to achieve the personality that she has today had to go through very strong injuries during her training, but having the biggest help and guidance of her mother who came forward picking off more than she can... also an extremely sexual and full of details for the man who she love like on the first day: Tommy Mottola, as part of the revelations of this unique woman.
"BREAKING MY SELF-ESTEEM"
Thalía, with Amore Mío we have an answer for months ago we have expected a new musical work...
"From the title we found out consistency in the way that caught my fans, I always tell them they are my loves, also because at home we live with many nationalities; My husband is Cuban with Italian ancestry, I'm Mexican, my children were born in the United States... Is a constant ratify that eternal love that I live with Tommy, so the disc is fully dedicated to love".
Like Thalía loves?
"Precisely this disc, you'll being handed a love story which I have personally lived in all facets. As a friend, as an artist, as a mother, daughter and lover... in this material I will be almost totally exposed".
The few who do not know you will see Thalía uncensored...
"Until I found myself... At this point in my life I tell myself: 'I like what I feel or that you're horny'; I wrote most of the songs and they are very sexual. I'm very sure at this point in my life and comfortable with my surroundings".
Does Tommy tells you you're so revealing in this part of your life?
"He loves the music, the rhythms, although not understand what I wrote (laughs), but, obviously, benefits from this feeling. I live my emotions not only inside, but also outside ... What I think, I live and feel. More and more I like to be a better version of myself.
I see that on this record you have collaboration with Fat Joe and Becky G. Have you given an advice to her?
"I have not shared much, because she is very clear, despite being so young. What all I can say is to live life without self-censorship, without judging".
Why? Did you take much whips when you were young?
"Yes, I was very critical with myself. I started very young in this, seven years old I was already modeling, appearing on programs... All my life I'm in front of the cameras and striving... Playing, yet working. From an early age I was exposed to break my self-esteem and if you're already, when one is young or adolescent is this walks the floor, now imagine being exposed to the media".
And how you were got up?
"My mother (Yolanda Miranda) told me: 'My daughter, get up, you know who you are, so do not feel bad... and if we go wrong, then pick up your suitcases and we go to another place in the world'".
You just feel more daring and sexual, by this change?
It's what I feel. At this point, I am very focused and sure of things which I was not before... very experienced and learned... very happy. I also love being a woman, a hembrota, similar lover, but also a wife and mother. I enjoy each of my facets.