Thalía is known for keeping her private life out of the public eye and tabloids. But recently the Mexican singer has wowed fans with the comments she's made about the intimacy she enjoys with her husband, Tommy Mottola.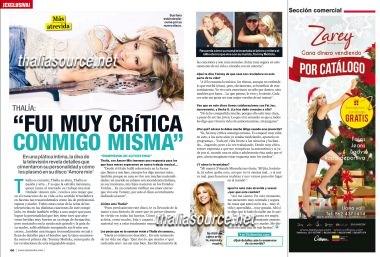 In an exclusive interview with TVyNovelas magazine, the former telenovela star really let loose and revealed more about her private life (and a range of other topics) than ever before.
On her gay fan base:
"You cannot live with barriers or limitations. I do not understand why the human is always pigeonholing people into groups to feel safe, because they don't know how to handle it. We should open up, experience and enjoy ourselves as we are. All we have is the present, the here and now...This moment is important. How wonderful to know that we can reinvent and improve what we do not like about ourselves."
On the song, Cerveza en Mexico (Beer in Mexico):
"It's one of my favorites. Because what inspires me is that although we can go through problems, in the end we think that everything will pass. And there is always a wonderful and bright future. And as fate should have it, it threw me a beer in Mexico. Singing about these issues brings back nostalgia for other times in my life where I had hopes for a better future. This song makes you happy. It's an invitation to enjoy life."
On which of her songs describe Thalia best at this stage in her life:
"One is entitled Mas (More) and another is called Tu Puedes Ser (You Can Be). I think both have a lot of me. They reflect how I feel today. The first is a message from a woman, like me, towards these men who feel very confident in their authority in front of us, and they know everything and they've already conquered us. "
And last but not least, the singer opens up with some sweet words about life with Tommy Mottola:
"Wow, imagine... It's already rained. Another song that I love is Tu Puedes Ser. It speaks about very intimate things I see in my partner and how happy I am with the little details that make me fall in love every day: Like how he makes me the coffee I like, that he serves it to me in my favorite cup... This is a melody of love to Tommy."
Source: Fashion & Style