Today is Thalía's return to telenovelas:
Here are all the details
She will not be as an actress, the Mexican, who lives in New York, will return tonight to the small screen to sing the new song of the telenovela Antes muerta que Lichita.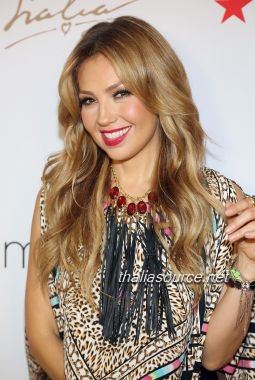 This Monday will be Thalía's return to telenovelas after 15 years of absence. Although we were excited about the possibility of seeing her again on screen, it was revealed that the beautiful wife of Tommy Mottola returning to television as the interpreter of the theme song of of the soap opera Antes muerta que Lichita, which will be released tonight (October 12, 2015).
Si alguna vez is the title of the song which was composed by Mauricio Arriaga and Eduardo Murguía, who also made ​​27 other telenovelas songs.
Si me escondí detrás de las miradas
Si mis palabras no decían nada
Si hasta la razón pensaba demasiado
Si mi corazón no iba a ningún lado
Y si todo era así
Hasta que tú llegaste a mí
Y sólo besarte y sólo tenerte
Apaga las dudas de mi mente
Y es que amarte me hace fuerte
Tu amor me hizo cambiar
Con sólo quererte
Por ti yo tengo un nuevo corazón
Estando juntos al desamor
Y sólo besarte y sólo quererte
Sólo mirarte tiernamente
Me hace ser tan diferente
Contigo nada me hace mal
Sólo quererte
Maite Perroni already recorded the song last August and plans to be the first single in her upcoming album

"When we presented her the song she said "Yes" immediately. She accepted when she heard it, she liked it, she made ​​a memorable theme songs that makes you feel good", said Rosy Ocampo, producer of the said soap opera starring Maite Perroni, to Televisa Espectáculos.
"It's a luxury to have her, she potentiates the song greatly, a very good song that she made ​​it a memorable one", said Rosy, who also, revealed that her work represents the Televisa's work in Cannes, so the participation of Thalía gives her even more visibility.
It was two weeks ago when Thalía anticipated that she would return to telenovelas: "Soon, soon, I will be in a soap opera, I won't say which, but soon. Soon I'll be in a soap opera every night", she confessed with a laugh in the program El Gordo y la Flaca.
The information first appeared on Comunidad de telenovelas forum