Singer, actress, fashion designer, entrepreneur, writer, and mom of two Thalía shares her parenting, lifestyle, fashion, and beauty tips as a POPSUGAR Latina contributor.
Easy Life Hacks That'll Make You More Relaxed, Organized and Clean / 8 Easy Hacks You'll Want to Live By
Maybe this happens to you too: Many times, I find myself struggling with everyday tasks. I feel that life is passing by too quickly, and there are so many things I want to do and take care of, but there is never enough time in the day!
Because of that, I have been thinking of ways to make my life easier and more streamlined. So, I put myself in the shoes of agent 007 and decided to formulate several strategies and shortcuts to make everyday tasks lighter and more practical. The goal is to have more time to focus on the important things that demand extra attention and concentration from me. Here are several of my strategies to clear the road and be productive so I can spend time on the things that matter most!
1. Keep Your Home and Life Decluttered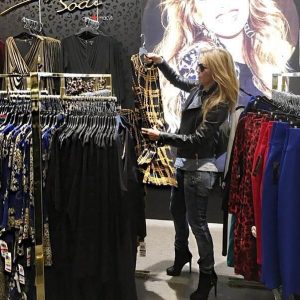 There are so many things scattered throughout our homes that we do not use anymore! For example, we have a bunch of old jeans taking space in our closet — we keep them because we may wear them someday, but we actually never get to it. Same with old cosmetics — I tend to accumulate many lipsticks that are already expired, but I keep them thinking that someday I will need that color to match an outfit. And what about the towers of random papers and old documents that need to be sorted, shredded, or recycled but we keep telling ourselves we'll get to tomorrow? And let's talk about the thousands of photos on our computers! I find myself collecting several copies of the same photo, unnecessarily, and that just adds to the excessive computer and mental clutter that needs to be cleaned up ASAP.
The truth is, all of these things take too much space, and in turn that excess affects our well-being. Clutter makes us feel anxious and tired. Therefore, we have to tackle decluttering projects one by one. Start by clearing corners and donating what is still in good shape. Go through your clothes, shoes, accessories, and books three to four times a year, separate them in piles, and donate the ones in great condition or get rid of what is in bad shape. Recycle all of those empty and old bottles of shampoo and creams that you have been collecting in your bathroom. Focus on keeping spaces as clear and organized as possible in order to make it easier to find things in the future. That way, when you are ready to get dressed and go to your carefully organized closet to pick what to wear, you will have easy access to all of your clothes and come up with a great outfit right away.
In my case, I am a neat freak, and I am constantly reorganizing my closet. I also like to do that when I visit Macy's to check on my fashion collection. I always find myself moving some things around and placing pieces on the racks by size, and it makes me happy. The truth is that when your home and office are clean and organized, you will be much more relaxed and will get to enjoy and better appreciate what you have.
2. Create a Zen Workspace
Keeping our workspaces clutter free is imperative. The large amount of papers on our desks and in our computer files can make us feel anxious and restless. Sometimes, the clutter is so extreme that we can't sleep well because we are constantly thinking of how and when to tackle it. Needless to say, that is not good for our health.
The key is to make it a habit. I try my best to find one hour every week to sort through the week's papers stacked on my desk and review emails and recent computer documents. I quickly delete all the junk and file the important documents and emails I want to keep. I am trying to be better at it and erase junk emails as soon as they hit my inbox, too.
The same principles apply to your desk. Paper clutter is just so draining. For my sanity, I do my best to keep it clean and dust free. I like to put a plant close by to cheer up the area and help me get connected to nature while I am in my office. I also like to keep several pictures of family and friends on my desk and a little knickknack that makes me smile. And don't forget the music! Find small, good-quality speakers and place them on your desk so you can listen to soothing music while you work, and keep your phone free for phone calls. The bottom line is to make sure that our working areas transmit peace so we can concentrate on our work and be more productive.
3. Streamline Your Beauty Stash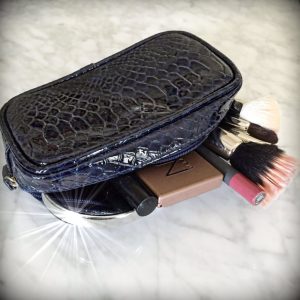 Many times we run out the door and we realize we have forgotten our makeup bag or our favorite lip balm. I have a solution for that! I decided to fill several small bags with the tools I use daily. I call them my S.O.S. bags!
Clear bags work best so you can see what is inside. The essentials I include in each bag are brow gel, mascara, compact with four or five different eye shadow colors (preferably neutrals), brushes, concealer, a small mirror, bronzer, and one cherry-colored lipstick that I can also apply on my cheeks.
I try to find smaller versions of all of those products to put in the bags — product samples are great for this! — and I always have several bags ready to go. I keep one in the car, one close to the front door (hidden of course), and one in a drawer in the kitchen area in case I have to retouch a bit while hosting guests and working in the kitchen at the same time. Keep your bags in strategic places at home and at work so you will always have what you need whenever you are in a hurry.
4. Accessories Can Save the Day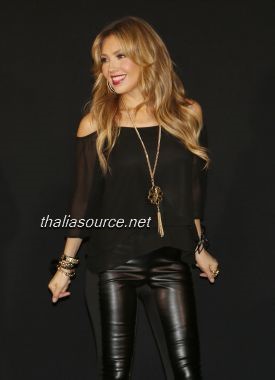 Plenty of times we focus on buying a fancy dress from a luxury brand or an expensive top with intricate details, but in most cases the accessories we wear are the ones that make a difference. The key is to learn how to pick great accessories that will elevate the look of simple pieces of clothing, such as an inexpensive little black dress or a white shirt with jeans.
If you wear necklaces that accentuate simple pieces and become the focus point of your outfit, people around you will most likely notice your interesting accessories and even ask you about them. I like wearing accessories that make a statement and can become conversation pieces at a meeting as well as at a party. They do not need to be expensive, but they need to look polished and be of good quality. I also love to wear vintage pieces I have inherited from my family because they provide me with stories I can share. If you do not have access to family pieces, visit vintage stores and markets in search of unique accessories that will make your outfits stand out.
Lastly, it is important to maintain your necklaces, earrings, bracelets, and scarves organized. I like to use jewelry trees and felt-lined trays to keep them accessible. I also rotate them and store or donate the ones that I have used a lot and will not wear again for a while or ever again. Try wearing accessories more often; they may save your day too!
5. Be Practical About Your Shoes
Not long ago I made the decision to rescue my back. For many years, wearing heels for my career had taken a toll on my joints and back. Dancing to complicated choreographies, moving my hips from side to side, and even throwing myself on the floor to land on my knees, all while in heels, caused damage to my lower back and hip joints. Plus, the long hours spent standing while shooting telenovelas killed my feet. So, nowadays flat shoes are my friends, and I wear them all the time. There are so many beautiful flats to choose from! I like tennis shoes and love the slippers with fun embroidery (skulls, happy faces, kitties, eyes, etc.), like the ones by Charlotte Olympia. Since I like to feel comfortable and wear shoes from my own collection, the Thalia Sodi Collection at Macy's, I made sure to include flats and pretty sandals with low heels.
I like to feel grounded, and flat shoes make me feel that way. That does not mean I don't love my heels! When I have to wear them to walk on the red carpet or when I attend a party, I do so proudly — the more sparkle and bling they have, the better. Glam heels make me swoon. But in my day-to-day life I prefer to wear flats and low heels, and I carry them with me everywhere. If I decide to wear high heels for a meeting, I make sure to take a pair of flats with me, inside of a cute bag, and keep it in the car or even inside of a large purse. That way, when I am done or get tired, I can quickly change. Plus, when you are a mom running after a 4-year-old son and an 8-year-old daughter, flat shoes come in really handy.
6. Take Care of Your Hair
The same way lions stand out in the animal kingdom because of their loud roars and their amazing manes, we women make a visual impact with the hair that frames our faces. I like to take really good care of my hair because it has literally been fried by all of the heat and distress it has received from curlers, flat irons, hair dryers, hair spray, and more.
I wash it every three days with a protein-rich shampoo. The days I wash my hair I also use the fabulous products by my friend Rita Hazan. Ultimate Shine Gloss ($26) and Weekly Remedy Treatment ($42) have restored health to my hair... well, not so secret anymore.
7. Stretch For a Healthy Body
If you are too busy or too tired to do cardio at home or go to the gym, make sure to at least stretch! Sometimes, we arrive home from working or studying and the last thing we want to do is go out running or step on the elliptical. On those days, when I am simply exhausted, I make sure to do some stretching exercises that will take me no more than 10 minutes.
Stretching is what will help you stay agile and feel young, and it will save you when you get older. You can stretch while you are reading a book. For example, sometimes while I am reading, I do a Pigeon pose (yoga) or Butterfly pose to stretch my leg muscles and hips. If you are standing waiting in line you can stretch your shoulders and arms. And remember the neck, since we resemble ostriches looking down to constantly check our electronic devices.
You can find safe stretching exercises online or ask your yoga teacher or physical therapist for ideas. Focus on your posture, and keep your head and neck high and shoulders back. There are also great books and guides that will show you how to stretch while you are sitting down. Stretching will make you look beautiful and feel better. Make it a habit.
8. Watch Your Caffeine Intake
A few months back, I noticed that my coffee consumption had increased. I realized it because at times I felt palpitations, anxiety, and tightness in my chest on the days I drank too much caffeine. Since I absolutely love coffee and I plan to continue drinking it, I had to come up with a quick solution to the problem. I decided to drink the strongest, caffeinated dose in the morning, and the rest of the day, if I want additional cups, I drink decaf and water it down.
Since caffeine is a diuretic and it dehydrates, I make it a point to drink one full glass of water for every cup of coffee, caffeinated and decaffeinated, I have during the day. It is so important to stay hydrated! I do the same thing when I drink alcohol. For every cocktail or glass of wine, I drink one full glass of water. Adding more water has helped me a lot. I feel more energized and my skin looks suppler, even after all the coffee. If you are like me, and coffee is one of those pleasures that make you smile every morning, feel free to drink it, but don't forget to stay hydrated.
I hope you can make good use of these tips.