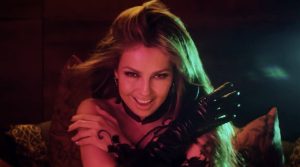 Cool and sexy, so is Thalía projected on her union with Maluma in the music video of her Desde Esa Noche, which premiered on March 18 worldwide.



view more images from this album
This articles appears on El Norte and Reforma March 18, 2016
The singer, 44, oversees the final details of her new album, titled Latina, which will launch on April 29.
"I've been in the studio mastering every detail, because I should already have to deliver it to the production," she says.
Regarding the video, recorded in New York's Chinatown and Taj II, she says it's a clip with lots of dancing and diversion, which seeks to inject joy who sees it.
"It was spectacular. It comes as sexy, cool, magical. It has the mystical side of Chinatown which are the colors, such unions of reds, dark, white, that very mysterious game of lights. Has these two angles: mystery and fun".
For the wife of Tommy Mottola, with singer Maluma, 22, it has been an interesting experience and appreciates that the people is enjoying it.
"I always love working with partners. Creating magic, giving stories to people, and I have done it so with huge, very great personalities, like with as young talents starting out."
"This gives you experience, an injection of joy in your career. In this case to get together with the Maluma, who is a super talented young man. He's an amazing singer, has a spectacular voice and is an angel who goes beyond anything."
With this fusion, Thalía falls squarely to the urban genre, which is dominating the Latin radio in the United States.
"I'm happy, impressed and delighted by what we have accomplished in the hand of a great producer as Sergio George; as co-producer also comes a great dear and talented friend, Armando Ávila, and created an impressive wave of sounds that are super present."
The title of the new album is due to the Latin boom that lives not only in the United States, but worldwide, she explains.
"Latina because that it is, from the moment that we are living, and that is: touch the root and be honoring and celebrating what we are."
"There's an empowerment of Latina women, and not only in the United States, but throughout the world. There is a strong movement of our flavor, our energy, music and culture."
Talking about tour, Thalía forgot the number of years from when she didn't make one, but she is ready to take a tour to share with her fans the successes of her most recent albums.
"Yes there will be a tour, which starts in late summer. I am excited to be there, in Mexico, singing all the past records and this new material."
There's no 'deletion'
Thalía denies the rumor that says the scenes that the Desde Esa Noche video with Maluma, had been erased by a technical error.
"I almost died when I heard that, I said, 'It can not be! It is not true! What madness! Why invent such things?'.
"Also the producer Carlos Pérez, Puerto Rican, who is a genius, went crazy, he said: 'What happened Thalía, is it all right?'. But more than anything it was an internet gossip", she said.