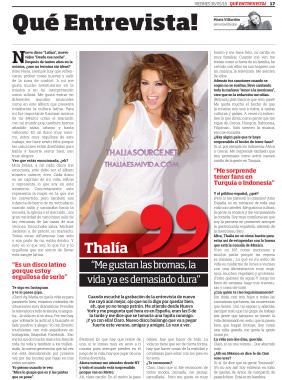 New album Latina, new video Desde Esa Noche. After so many years in music, you don't run out of ideas?
(Laughs) Nooo, you should always refresh, try new things and get out of the comfort zone. I really like to venture in music and in singing as a soloist. I like going into different musical worlds like on this album that fully presents the Latin culture. For me it is important to fuse music from my Mexico like the mariachi with my pop world, we also added salsa, urban and even vallenato. It's our very own album, I am very proud of this work, it makes me feel happy because the songs are designed to dance and make you feel good, they are very joyful.
I see you're excited, huh?
Look María, to me every album excites me, this must be the album number fourteen, I think. Each album is a chapter of my life, reflects and represents what I am right now. Specifically it represents the woman that I've become, but also that child of the barrio in my neighborhood, when she went out and walked towards the school, church or the market... heard many songs out of the windows of the houses of my neighbors. I listened to salsa, Michael Jackson or, suddenly, a mariachi. All these influences have been and are part of me, they are inside of me. And this is what I am, what I was and how proud I am to bring this Latin blood.
I followed you on Instagram and you are having a good time
Yes! Oh, María, life is to have fun, we are surrounded by very dramatic situations. Switch on the television and everything you like, your anguish... life itself is tough. So you have to turnover the attitude and look for the positive and cheerful side. I'm having so much fun with my followers on Instagram, Snapchat, Facebook... Those have attached me much more to my fans all of my life and also the millennials, the new generation is discovering me perhaps for the first time by the crazy things I do in my social networks.
What I think when I see you, "Look how beautiful she is and the make up she put on"
You have to laugh at yourself, if you take very seriously yourself because you always lose in the game of life, you have to play in a fun way.
Right now you're responding from NY and everyone is surprised because you're in Metro
Ah, yes, cariño. In the subway I had a good time, we must do everything. Life does not have to be a certain way, you have to do things in reality and to keep our feet on the ground.
You were recognized?
Sure, of course yes. I was recognized anyway, my hair, uncombed, camouflaged... But I like it, it's very nice and makes me happy, their affection is very familiar. When they see me they treat me like their family, I've grown up with them in their homes with my music, television. I feel for them.
Also your songs when they have it they cannot let them go, I took all my morning singing Amor a la Mexicana, I think that the wordings hates me.
I love it when this happen!! I really like the fact that music unites us all, so many cultures and countries. Sometimes they do not understand what you say, as people who follows me are from Greece, Hungary, Indonesia, Philippines... They just feel the music, I love that.
Is there any country that has surprised you by having fact of having fans there?
Yes, for example in Indonesia, Africa or Greece. I was also surprised that my characters as an actress causes affection of the people in Turkey.
And the Spanish people, what?
But if I find them best! I love Spain, it is a romance of a lifetime with you. I like their culture, people, music and food captivates me. I'm a very binge eater so I'm always the first to promote the Spanish gastronomy, and also Mexican, of course.
Look Thalía, I dont know what you do to look so stunning, with how so delicious is the Mexican food.
I live in NY, as a Mexican and a lot of pasta because my husband is Italian... What my lifestyle is to take care of myself from Monday to Friday with a very organic food, lots of veggies and proteins. I take gallons of water! And then on weekends I do my cheats and likes everything.
With who you are laughing in a very very very very very crazy way?
Undoubtedly, with my children and all the cartoons they do, the witticism they have. With my husband and, I always treat my work group people to not taking life too seriously, have a good time, make jokes. I'm like a big little girl, I like people like me.
Live for the moment
Of course, if we do not laugh... everything is boring.
There in Mexico they say: Qué soso eres? [one who is not happy]
Yes Yes. It is said to be people "buuuuu". I am not so! I am extreme in everything: passion, love, sharing, have fun. This is my flag.