Isn't love beautiful? Celebrate this day of love by wearing a red-hot outfit to get your date's heart pumping!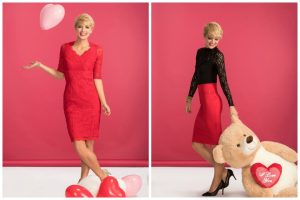 LEFT - Dress and Jewelry: Thalia Sodi Collection
RIGHT - Red pencil skirt, Lace Top and Black Pumps: Thalia Sodi Collection.
1. Wear a red dress to a Valentine's Day date. Better if it's a lace one for an added romantic touch.
2. If you can't commit to so much red, try a form-fitting skirt and add some romantic touches, like a lace top and red lips.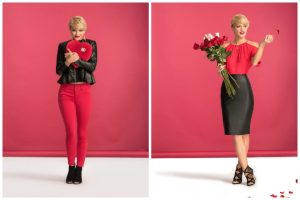 LEFT - Red Pants, Peplum Faux- Leather Jacket and Peep toe booties: Thalia Sodi Collection
RIGHT - Top, Faux-Leather Pencil Skirt and Heels: Thalia Sodi Collection.
3. Red pants are another alternative for the colder February weather. Make this romantic color seem more rock-n-roll by pairing it with a leather jacket.
4. A red top works great if you're going to dinner, because he can see this eye-catching color from his side of the table. We paired it here with a leather pencil skirt, but this top from the Thalia Sodi collection would look just as good with a pair of jeans!