Thalía is included again in People en Español's Los 50 Más Bellos 2017 (50 Most Beautiful). This is the twelfth time that the Mexican artist is included in the list. She graced the 2003 cover of the last year when the list was still called as Las 25 Bellezas Latinas. She holds the record for being on the Más Bellos coveted list a total of twelve times since the magazine started the list in 1997: 1998, 2000, 2002, 2003, 2005, 2007, 2008, 2010, 2012, 2015, 2016 and 2017.
People en Español's Los 50 Más Bellos is on their June issue.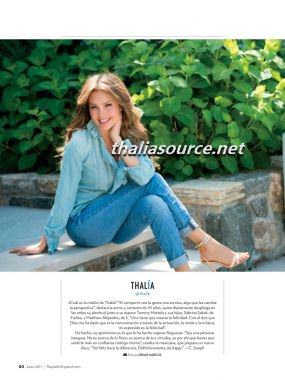 Click the photo to view the scans in the gallery
What is the mission of Thalía? "To share with people a smile, something that changes their perspective," says the 45-year-old actress and singer, who daily displays in the social media her fullness with her husband Tommy Mottola and their children, Sabrina Sakaë, 9; and Matthew Alejandro, 5. "You have to create happiness. With the gift that God has given me is the communication through acting, fashion and music, my expression is happiness."
In fact, her optimism is what has made her overcome weaknesses. "I'm an insecure person, it's not about the physical, it's about your virtues, that's where you have to feel more confident with yourself," says the Mexican, who is preparing a new album. "Being happy makes a difference. Definitely be happy". — C. Joseph
In this years edition, it celebrates the impact of social media networks, the photographs are cataloged in categories such as #Selfie, #Glam, #Happy, #Love, #MCM, #NoFilter and #TBT.
They splurged glamour in #Glam: Romeo Santos, Lineisy Montero and Marjorie de Sousa (in her first photos since she gave birth to her son Matías Gregorio), Roselyn Sánchez, Danna Paola, Karla Martínez, Julián Gil, Gina Rodríguez, María León, Alice Braga, Maluma and Kate del Castillo.
Radiates happiness in #Happy: Bárbara Bermudo (who gave her first interview since leaving Univision), Carlos Vives, Carolina Miranda, Francisca Lachapel, David Chocarro, Wilmer Valderrama, Dayanara Torres, Thalía and Rita Moreno.
Exudes love in #Love: Emeraude Toubia and Prince Royce (whom they talk about their romance), Ariadne Díaz and her baby Diego, Gelena Solano and her pet dogs and El Dasa and his bulldog. But clarification: Pets are not part of the official list, only their famous owners!
You can also enjoy the view with the gallants in #MCM (Man Crush Monday): Horacio Pancheri, Brandon Peniche, Franco Noriega, Miguel Ángel Silvestre, Reykon, Gabriel Soto, Poncho Herrera and Ryan Guzmán.
The natural beauty and without pose is praised in #NoFilter by Jessica Carrillo, Zoe Saldaña, Ana Brenda Contreras, Juanes, Adria Arjona, Erick Elías, Carmen Villalobos and Karla Souza.
In #Selfie they showed their best self-portraits: Emily Estefan, Catherine Siachoque, Carlos Ponce, Danilo Carrera, Esmeralda Pimentel, Eliecer Marte, Karol G and Fernanda Castillo.
In #TBT (Throwback Thursday) we open the trunk of memories celebrating 50 beauties that have adorned the list in previous years, with memorable photos of past editions of Cristián de la Fuente, Chayanne, Maite Perroni, Lili Estefan, Daddy Yankee, Giselle Blondet, Christina Aguilera, Shakira, Rafael Amaya, William Levy, Fernando Colunga, Eduardo Yáñez, Daisy Fuentes, Paulina Rubio, Enrique Iglesias, Olga Tañón, Juan Soler, María Celeste Arrarás, Dulce María, Eva Longoria, Angelique Boyer, Luis Fonsi, Jencarlos Canela, Angélica Vale, Eduardo Verástegui, Adamari López, Shalim Ortiz and Charytín Goyco, Myrka Dellanos, Aracely Arámbula, Gaby Espino, Sofía Vergara, Beyoncé Knowles, Jennifer López, Pitbull, Jacky Bracamontes, Lucero, Gloria Estefan, Niurka Marcos, Silvia Navarro, Jaime Camil, Lin Manuel Miranda, Ricky Martin and Alejandro Fernández. The #TBT includes photos of dynamic duos of Chiquis and Jenni Rivera, Raúl de Molina and Alejandra Espinoza, and Ivy Queen and Rodner Figueroa.
The list was revealed in a special edition of Univision's El Gordo y La Flaca on April 28 8PM which featured the behind the scenes of the cover photo shoot and other photo shoots of celebrities in this coveted list. The celebrities in the cover are Marjorie De Sousa, Romeo Santos, Esmeralda Pimentel, Francisca Lachapel, Emeraude Toubia, Lineisy Montero and Carmen Villalobos. The photos for the cover are shot by Omar Cruz at 1 Hotel Brooklyn Bridge, with the Brooklyn bridge and New York City skyscrapers as backdrop.