The singer and actress Thalía is working on her new album, in addition to being a co-producer of Tommy Mottola
Dedicating herself to fashion, music, acting and production business, as well as being a mother and wife, is an adventure that Thalía has mastered and enjoys.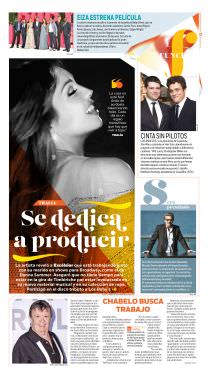 While sharing with her fans moments of her life through her social networks, the singer is very clear where she is heading, keeping focused on her career where the project of a new album, the co-production of musical works on Broadway - along with her husband Tommy Mottola, collaborations with colleagues and the launch of a new line of clothing and accessories takes up her time... all without neglecting their two children.
"I'm very busy in the studio! Happy and very inspired with new music. There are some great songs with incredible stories! So when they least expected it I'll surprised them again. A tour... of course, with the new music, of course! And that excites me so much because I adore my beloved audience and nothing makes me happier as a singer than to see them dancing and chanting to my music," said Thalía by email To Excélsior.
Last October Thalía performed in Auditorio Nacional in Mexico City where she recreated two songs that she sang when she was part of Timbiriche, along with Sasha, Benny and Erik.
The video of the song Junto a ti was released as part of her new material.
"Having shared the stage in my last concert in Auditorio Nacional with Sasha, Benny and Erik was super powerful. I invited them to see if they would accompany me to sing a couple of songs and surprise my people. The surprise hits me when they accepted."
"The video is exciting because in reality Sasha and I had never sung a song together on the same stage. At that moment we did not talk about any reunion. I wish her all the success in the world in this new adventure. I imagine it's going to be wonderful! Never have to say 'From this water I will not drink,' added Thalía, who says she will not be able to be with them because of her many commitments.
Not only does the new music takes the time and mind of Thalía, the complicity with her husband both to train Sabrina Sakaë and Matthew Alejandro, their two children, and involved in creating new projects in music are an essential part of her life, joking, she says, "is in knowing how to organize."
"For the moment I'm in my new album, working full time with my collection of clothes, shoes and accessories; In the development of a documentary for HBO of which I will soon give you the surprise. I'm also co-producing with my husband shows on Broadway like A Bronx Tale, Groundhog Day and, soon, Donna Summer! Also to watch Sabrina and Mathew in their emotional and intellectual growth and development."
"Organizing well is the key to success in everything. Teamwork is the most important thing, to be surrounded by people who share my work vision and who take good care of me while I am accompanying the children to one of their school events or vice versa; Having a person of all confidence, watching for them while on tour or promoting a project or launch is basic. Everything is possible knowing how to find the balance," she said.
For Thalía, the basis of balance "lies in finding a link between body, mind and spirit as the body follows each of the thoughts that are generated, both positive and negative so that she bets on the former."
"Now the saying 'Where I put my eye I put the bullet' applies here, to think that we are unique and unrepeatable, lucky to be alive, that everything is possible, that good is always on our side is the attitude that rejuvenates. More obviously eating healthy, moving, exercising and trying to meditate or calm the mind, are my tools to feel myself in my 20s."
Despite encountering many personal projects, Thalía gives herself the time to be part of the projects of others, so when Armando Ávila, musical producer, invited her to be part of the tribute to Los Baby's, the singer did not hesitate to join her voice to Triángulo, the iconic song of the musical group of the seventies.
"Armando Ávila, who in addition to having produced many of my songs, is a very dear friend, told me with much emotion about this tribute that he wanted to do to his father. I was very excited because, in addition it is a project full of love, Triángulo."
"The experience was wonderful, they are gentlemen throughout the word. In addition they tell a spectacular anecdotes and in a super fun way. I didn't get tired of asking Carlos Ávila to play his guitar solo again and again! Tommy loves Carlos' talent, he could listen to that guitar solo every day without getting tired," she concluded.
This article appeard on Excélsior June 21, 2017 issue